Argentine and Barcelona forward Lionel Messi tied the knot with his erstwhile fiancée, Antonella Roccuzzo, on Friday at a luxury hotel in the northern port city of Rosario.
Dubbed the "wedding of the century" by Argentine media, the ceremony was attended by some 260 guests, including famous footballers and showbiz personalities.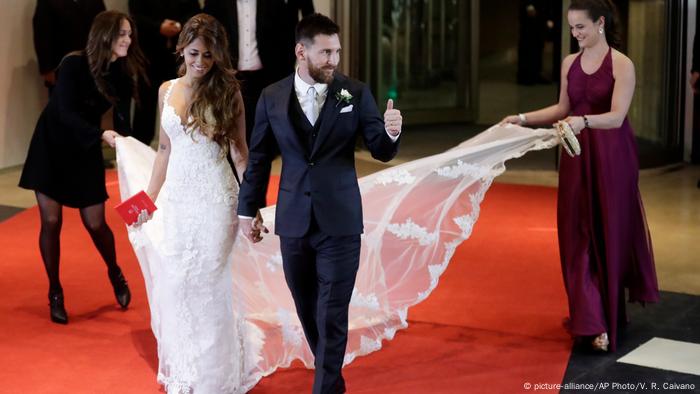 Messi's current and former Barcelona teammates Luis Suarez, Neymar, Gerard Pique, Xavi Hernandez and Carles Puyol - as well as Argentine players Sergio Aguero and Angel Di Maria - were on the star-studded guest list.
Pique's wife and pop star Shakira also attended the wedding. Uruguayan pop bands Rombai and Marama, as well as Aguero's wife and singer Karina reportedly performed at the wedding.
About 150 journalists were also invited to the event, but they were not given access to the civil ceremony or the party afterwards.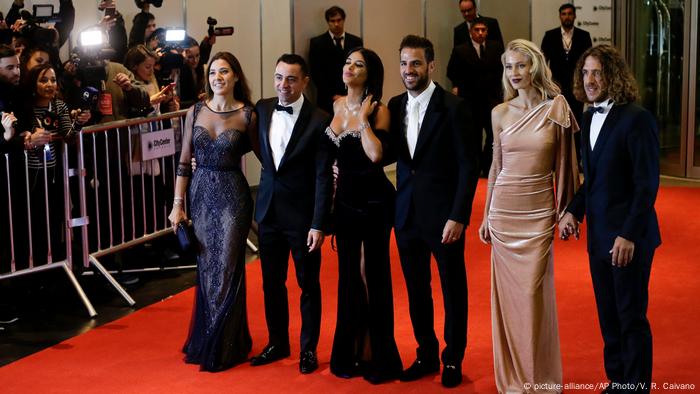 Guests, from right: Vanessa Lorenzo, Cesc Fabregas, Daniella Semaan, Xavier Hernandez and Nuria Cunillera
The wedding was to be a respite for the 30-year-old player from his legal woes in Spain. Last month, a Spanish court rejected Messi's appeal against a tax fraud conviction.
The five-time footballer of the year, widely regarded as the best footballer in the world, had a disappointing season with FC Barcelona, having lost La Liga to arch-rivals Real Madrid and the Champions League quarter-final to the Italian club Juventus.
Rosario thankful
Messi has been criticized in Argentina for failing to win a major trophy with the national team, having lost the 2014 World Cup final to Germany and the 2015 and 2016 Copa America finals to Chile. He briefly retired from international football following the 2016 Copa defeat.
Read: Opinion: Lionel Messi weighed down by the burden of a nation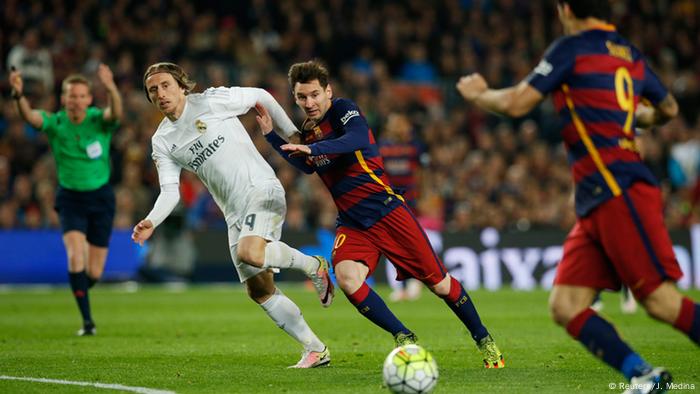 Hundreds of fans had gathered outside the City Center casino in Rosario. Rosario residents were happy that Messi chose to wed in their city.
"We think it's great that Messi has come to Rosario to get married," said Julio Sosa, a laborer.
"Messi could have had this wedding wherever he liked - Dubai, the moon. He can pay any plane ticket for anyone, but he chose the city that's in his heart," said Leandro Macaya, another Rosario resident.
Roccuzzo is also from Rosario, and the pair met as children. They have two youngsters of their own, Thiago, 4, and Mateo, 21 months.
Messi moved to Barcelona at the age of 13 for a treatment for growth-hormone deficiency and to play for the Catalan club. He has won 31 trophies with FC Barcelona and is the highest goal scorer in the club's history.
shs/rc (AFP, AP)