Saturday night airstrikes by Khalifa Haftar's self-proclaimed Libyan National Army (LNA) killed four people and wounded 20 others in Tripoli, Libya's internationally recognized unity government said on Sunday.
Amin al-Hachemi, a spokesman for the Government of National Accord's (GNA) Health Ministry, warned "the death toll could increase in the coming hours."
A pro-GNA military source told AFP that the airstrike victims were civilians.
"Several sites were targeted by airstrikes late Saturday night, causing victims among civilians," the source said. "Most of the strikes hit areas in the district of Abou Slim... (but) none hit military targets."
Read more: Khalifa Haftar: Libya's military strongman
Tripoli residents said they heard the roar of airplanes and heavy explosions between 11 p.m. and midnight local time.
"We are hearing sustained, uninterrupted fire" from machine guns and anti-aircraft guns "and occasional airstrikes, but we do not know where exactly," a resident of western Tripoli told AFP Sunday morning.
The GNA accuses strongman Haftar of using foreign planes to carry out airstrikes, without naming a country of origin.
Read more: Libya's battle for Tripoli — what you need to know
Hundreds killed, thousands displaced
Forces loyal to the UN-recognized government of national unity and fighters under commander Haftar have been engaged in fighting for three weeks.
Haftar's forces launched an offensive on April 4 to seize the capital. After forces loyal to the Tripoli-based government of national unity launched a counterattack last weekend, the International Committee of the Red Cross warned that residential areas of Tripoli were being turned into battlefields.
Tripoli claims Haftar's forces have killed and displaced civilians, destroyed property, recruited child soldiers and used heavy artillery and Grad missiles on populated areas. It has asked the UN to investigate.
At least 278 people have been killed and more than 1,300 wounded in the clashes, according to the World Health Organization. More than 35,000 people have been forced to leave their homes, according to the United Nations.
Pope Francis on Sunday called for refugees to be evacuated from detention camps in Libya.
Their situation "which is already very serious, has become even more dangerous due to the ongoing conflict," he said. A group of 140 refugees is expected to arrive in Rome from Libya on Monday.
Read more: Could Libya be Russia's new Syria?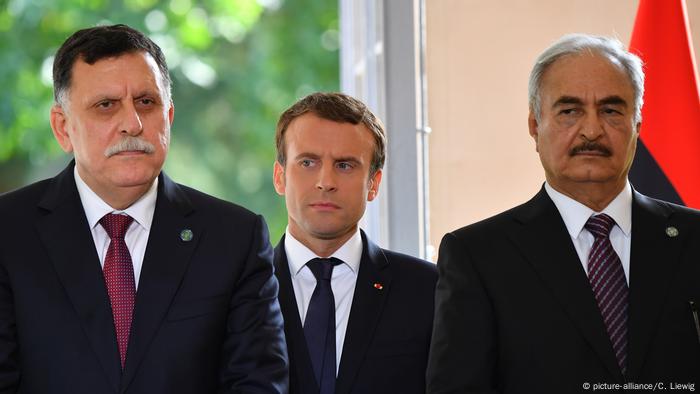 Libyan PM Fayez al-Sarraj (R) and Khalifa Haftar with French President Emmanuel Macron
Split over Libya
Haftar's Tripoli offensive has exposed rifts between world powers over how to handle the Libya situation.
Earlier this month, the White House said US President Donald Trump called Haftar to acknowledge "Field Marshal Haftar's significant role in fighting terrorism and securing Libya's oil resources, and the two discussed a shared vision for Libya's transition to a stable, democratic political system."
Read more: EU, France split on Libya as Khalifa Haftar strikes Tripoli
The call came amid efforts by the UN to broker a ceasefire, which was opposed by the US and Russia on April 18. Germany, France and the United Kingdom are backing the UN push for a truce.
Libya has been facing political turmoil since the ouster and killing of longtime dictator Moammar Gadhafi in a NATO-backed uprising in 2011.
As well as the rivalry between the GNA and the LNA, a myriad of militia have vied for control of key cities, alongside periodic jihadi activity.
shs,jm/aw (AFP, Reuters)
Every day, DW's editors send out a selection of the day's hard news and quality feature journalism. Sign up for the newsletter here.