Sunnis, Shiites, Alevis, members of the LGTBQ community - all are welcome at the Friday prayer service at the Ibn Rushd-Goethe Mosque in Berlin. The organization, which holds its services inside the St. Johannis Church in the area of Moabit, has sparked criticism since a DW report on its founder, women's rights activist Seyran Ates, who established the institution despite fierce resistance.
Reports about the liberal mosque found their way into several newspapers in the Muslim world. The pro-government Turkish newspaper Sabah called it "absurd" that services took place inside a church. Another newspaper, Yeniakit, labeled Ates a Kurdish supporter of the controversial cleric Fethullah Gulen. And Daily Pakistan criticized the fact that women took part in prayer services unveiled.
'No conception of religion'
Men and uncovered women praying together, and presided over by a female imam on top of it? For some in the Muslim world, that's simply going too far. "They're creating a new religion, that's not Islamic," commented one DW user. "These people are not following the religion of our prophet. They have no conception of the religion. What idiocy," commented another.
DW Arabic's report garnered more than 1.7 million clicks by Monday afternoon.
"Our article drew quite an impassioned response," said Tarek Anegay, who works in DW Arabic's social media department.
Many users were outraged by what they saw as a contradiction of Islamic doctrine.
DW Arabic expected such reactions. "When it comes to anything that concerns the traditional, conservative code of Islam, people tend to act very sensitively and suspiciously," said Anegay.
A Western conspiracy
A key debate raging within the Muslim community concerns the lack of equality between men and women, along with the appropriateness of women not covering their heads during prayer. The concept of a female imam remains a special taboo, Anegay said. Many Muslims look at such attempts to liberalize their religion and see a conspiracy concocted by the West against Islam.
"The high number of Muslims frightens Europe, and for that reason the Europeans are attempting to market a new form of Islam that conforms to life in Europe," wrote Manhal al-Ahmad on DW's Arabic Facebook page. "I believe that they won't achieve their goal. In the end they will give up and eventually come to understand that this fight against this religion was wrong."
The impression still exists in Muslim countries that the West wants to impose its lifestyle on the Muslim world, according to Rainer Sollich, head of DW Arabic's online department. "Those who oppose all reformist ideas within Islam are also taking advantage of this agenda," he said. "It's a very populist agenda. It works, because many people in the Muslim world are jumping on it and many genuinely feel that way."
Emotional discussion
The tone of the commentary is at its core very emotional and aggressive, said social media editor Anegay. Editors often have to intervene, even having to remove verbal abuse, threats and defamation. "We counted more than 15,000 comments, but we had to delete a lot of them," Anegay said.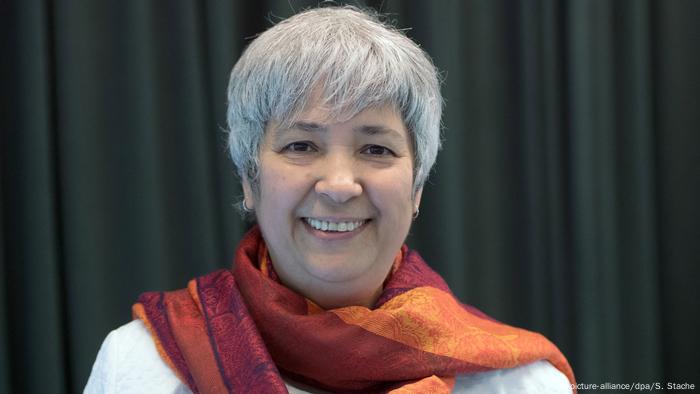 Seyran Ates is the woman behind the Ibn Rushd-Goethe Mosque
In Rainer Sollich's view, many in the Muslim world in general don't take into consideration reforms or any critical examination of their faith. But there is a growing realization of the changes that are needed. "Today may seem strange to us, but perhaps it won't be so unusual in a few years," one user commented. "A Christian woman in the West is allowed to be a pastor. Why do people not have the right to be what they want to be?" another said.
Egypt's highest Islamic authority responds
On Monday, Dar al-Ifta al-Misriyyah, the Egyptian government body that weighs in on religious or legal matters that divide Muslim believers, responded to the controversy, as reported by Egyptian news outlet Al-Shabab. "In prayer, gender segregation cannot be lifted," the office declared. The proximity between men and women in the mosque is not allowed, as it clearly violates Sharia, or Islamic law, according to the office.
"Such controversies are part of our reporting," said Anegay. "We understand that many Arab users aren't going to like them. But everyone has the right to interpret their faith the way they see fit, as long as they take into account the rights and dignity of other people. The people saw the report and felt attacked, but they didn't take the time to question themselves." Anegay thinks back to a famous line from an Islamic philosopher: The road to faith goes through questions.