Opening its doors Friday on the third floor of St. John's Church near Berlin's Tiergarten, the Ruschd-Goethe mosque is named in honor of the Arabic Islam scholar, physician and philosopher Ibn Ruschd (1126-1198), and the German poet and philosopher, Johann Wolfgang von Goethe (1749-1832).
Women and men shall pray together and preach together at the mosque, while the Koran is to be interpreted "historically and critically." The mosque is open to all, with one exception. "No one will come to our mosque with a niqab or burqa," said founder Seyran Ates in an interview with "Spiegel-Online." The full veil ultimately has little to do with religion but is a political statement, she believes.
Ates herself is no stranger to making political statements. Her latest book, "Selam, Frau Imamin" (Selam, Mrs. Imam), will be published in time for the opening of the mosque. In it, the practicing Muslim expresses indignance about fundamentalist tendencies in Islam. She notes, for example, that a conservative Turkish state Islam rules in Germany. The majority of the imams have a troubled relationship with ideas of religious freedom, equality and homosexual rights. They preach an Islam from the past. This means that liberal Muslims in Germany have no place.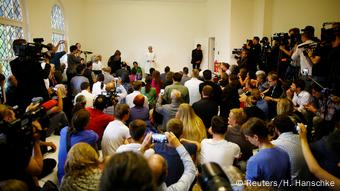 Seyran Ates, founder of the new liberal Ibn-Rushd-Goethe-Mosque, prays at its opening in Berlin
Ates to train as an imam
Seyran Ates is currently undergoing training as an imam. "For a long time, I only dreamed that liberal Muslims would come together to live an Islam that explicitly affirms democracy and the equal rights of a community of believers," she wrote in "Die Zeit." "I've been waiting for the right mosque to be opened by people who are more loyal to the Quran than I was, and somehow it was like waiting for Godot so I finally decided to realize my own vision."
By founding a liberal mosque, Ates has emerged as a "champion of modern Islam," said Fabian Wittreck, professor at the University of Münster's Cluster of Excellence Religion and Politics. This is especially so due to her willingness to dissociate from conservative Islamic institutions, Wittreck told DW.
Indeed, Ates is judging Germany's largest Muslim associations harshly: Islam, according to the lawyer, must be urgently modernized. An increasing number of Muslims hope for a peaceful Islam that fosters dialogue with other religions, wrote the 54-year-old in "Die Zeit." This Islam does not, however, currently have a place in Europe. "There are only the established conservative communities that barely allow any criticism and doubt."
Opening under police protection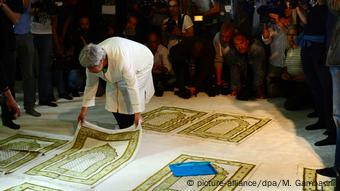 Seyran Ates presents a prayer carpet at the opening of Germany's first liberal mosque
Guests of the Ruschd-Goethe mosque opening on Friday heard Ates hold a sermon amid a strong police presence. The 54-year-old has received harsh criticism and threats over the years for her liberal interpretation of Islam.
After emigrating to Germany from Turkey at the age of 6, Ates later financed her legal studies in Berlin while working at a counseling center for women from Turkey. She has been working as a lawyer since 1997, fighting mostly against domestic violence and forced marriages.
Ates was a member of the Islamic Conference under the interior minister, Wolfgang Schäuble, and has published several books, including 2007's "Multi-Kulti-Irrtum" ("Multicultural Mistake"). In it she argued that "multicultural fanatics" whose "disinterestedness in immigrants" was disguised as tolerance were responsible for "the fearful coexistence of cultures." She also criticized the fact that representatives of conservative Muslim organizations did not care to promote the successful integration of immigrants.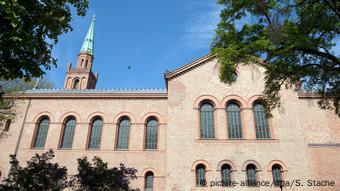 The mosque is located on the third floor of St. John's Church near Berlin's Tiergarten
After the attacks of Manchester and London, Ates insists Muslims "should do more against extremism in Islam."
"The silent majority of Muslims must finally take responsibility and oppose it," she said in the "Berliner Zietung" newspaper. "I am afraid today that every Muslim must be willing to ask the question: What are you doing about your religion being abused and discredited?"
To answer this question is difficult. The feeling of helplessness is great. "In the Ibn-Rushd-Goethe mosque we will try to find an answer," said Ates.