Researchers said they expected the average annual temperature to increase by up 2.5 to 3.5 degrees Celsius (7.2 degrees Fahrenheit) in some German regions by 2100 when compared to the second half of the 20th century. This would have consequences depending on the season and region.
"This is a jump in temperature we have not had for thousands of years," said Andreas Troge, head of the Federal Environmental Agency (UBA), a branch of the German environment ministry.
In the winter, the UBA computer models predicted up to a third more precipitation for some mountain ranges in southern Germany -- but not in alpine regions, where only a sixth of the current average amount of snow is expected. Summers are forecast to be up to 30 percent drier in much of the country, increasing the danger of forest fires and hampering river transportation.
Climate change at Germany's door
"We finally have a more exact picture of how and where climate change affects Germany," Troge said. "Climate change is not only happening in Greenland and the Arctic but also right here at our front door."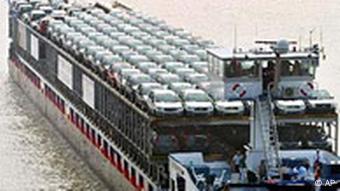 Less water in German rivers will hinder cargo shipments
The amount of greenhouse gasses emitted into the atmosphere will largely determine the severity of climate change effects, according to the researchers' report.
But people won't have to wait another 94 years to see the effects of global warming, Troge added. Extreme weather conditions in the last 10 years have cost Germany about 16.5 billion euros ($20.5 billion) and could jump to 27 billion euros by 2050, according to the UBA report.
A study by the Bavarian Environment Ministry also pointed out that floods, like those recently experienced in eastern Germany and eastern Europe would become more common, according to Werner Schnappauf, Bavaria's environment minister.
Admitting that the exact effects of global warming are extremely difficult to predict, Daniela Jacob of the Max Planck Institute, said that melting glaciers and prolonged draughts would be the unavoidable weather of the future.
Two ways to limit effects of global warming
Troge said two courses of action are required to limit the consequences of climate change.
"We have to begin adjusting our energy consumption and at the same time do more to limit the worldwide temperature increase to two degrees Celsius," he said.
Troge wants Germans to re-evaluate where they get their energy
In order to achieve those targets, Germany would need to reduce its emissions by 40 percent by 2020 and 80 percent by 2050 and rely more on renewable energy. The 1997 Koyto Protocol said 150 industrialized nations needed to reduce certain greenhouse gases by five percent from 1990 levels by 2012 -- goals a December study reported only two European nations, Britain and Sweden, were on target to meet.
"If we do not deal with the problems today, we'll have a high price to pay," Troge said.