The findings by the Institute for Public Policy Research (IPPR) will make embarrassing reading for European governments that have berated Washington for its refusal to ratify the United Nations pact.
Of 15 countries in Europe signed up to Kyoto, only Britain and Sweden were on target to meet their commitments on reducing harmful gas emissions by 2012, said the IPPR, Britain's leading progressive think tank.
In contrast, 10 nations -- including Ireland, Italy and Spain -- would fail to do so unless they took urgent action, it said.
Britain makes environment a priority
The 1997 treaty sets legally binding targets for developed countries to reduce emissions of carbon dioxide and other gases blamed for global warming by 2012 compared with 1990 levels.
Protestors in Washington urge President Bush to sign on to the Kyoto Treaty
However, the refusal by the United States -- the world's biggest polluter -- to sign up has limited its impact on improving the climate.
British Prime Minister Tony Blair made the fight against global warming one of his key goals during Britain's one-year presidency of the Group of Eight (G8) industrialized nations, which expires at the end of the year.
He has spent much of the past 12 months trying to find common ground on which all countries, including the United States, can agree.
Earlier in December, Kyoto's 159 members approved crucial decisions on strengthening the treaty's mechanisms at a conference in Canada.
They also agreed to launch negotiations from next May on cutting greenhouse gas pollution beyond 2012, when the present Kyoto pledges run out.
"A wakeup call"
Pledges to reduce harmful greenhouse gases, however, were of little use unless countries followed through with action, the IPPR warned.
"This study is a wakeup call. It says that as things stand, the European Union is not on course to meet its commitments under the Kyoto Protocol," the group's associate director Tony Grayling said.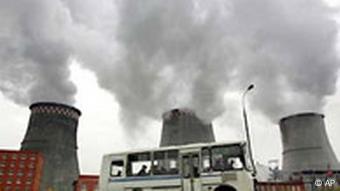 EU countries need to do more to cut pollution
"We are nearing the point of no return on climate change," Grayling added. "We have very little time left to start reducing global greenhouse gas emissions before irreparable damage is done," he said. "It is vital that EU countries keep their promises to cut pollution."
The IPPR used a traffic light system to grade countries on their ability to meet Kyoto pledges, giving those who looked set to fail a red warning.
France, Greece and Germany -- rated as amber -- would reach their targets only if planned policies were successfully carried out, the study found.
Time running out
Grayling urged those countries that were falling behind to take action immediately to get back on track, suggesting energy saving and investment in renewable energy sources.
"In the new year, EU countries will need to adopt tougher limits on emissions from power stations and heavy industry, in the second phase of the EU Emissions Trading Scheme," he said.
Under the Kyoto Protocol, the European signatories have until 2012 to reduce gas emissions to 8 per cent below 1990 levels.
But the European Environment Agency warned in November that if things keep going the way they are, the European Union is likely to achieve a cut of just 2.5 per cent – much less than the treaty demands.