Lebanese Prime Minister Saad Hariri will travel to France at the invitation of President Emmanuel Macron, according to French Foreign Minister Jean-Yves Le Drian.
"He will come to France and the prince has been informed," Jean-Yves Le Drian said Thursday in Riyadh, referring to Saudi Crown Prince Mohammed Bin Salman.
Asked about the date of the trip, Le Drian replied, "Mr. Hariri's schedule is a matter for Mr. Hariri." An official at the French president's office said Hariri was expected in the coming days.
Speaking alongside Le Drian, Saudi Foreign Minister Adel al-Jubeir said Hariri could leave Saudi Arabia when he pleases.
"The resigned Lebanese prime minister is living in Saudi Arabia of his own free will. He is the one who decides on his return to Lebanon," he said.
No exile offered
Lebanese President Michael Aoun welcomed the announcement. He said on Thursday that he hoped Hariri's eventual return from France would end the country's ongoing political crisis.
"I am awaiting the return of Prime Minister Hariri from Paris for us to decide the next step with regards to the government," he said.
Speaking to journalists in Bonn where Macron was attending the COP23 climate summit, the French president had said on Wednesday that Hariri and his family had been invited to spend "a few days" in France but he was not offering Hariri political exile.
It was essential, Macron said, to dispel fears that Saudi Arabia had taken the Lebanese leader prisoner. "We need to have leaders who are free to express themselves," said Macron. "It's important that [Hariri] is able to advance the political process in his country in the coming days and weeks."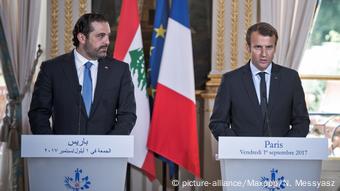 Hariri (L) and Macron (R) met in Paris in September
Resignation announced in Saudi Arabia
Hariri unexpectedly resigned in a statement made via television from Saudi Arabia on November 4. In the following 11 days there has been speculation about the status of the Lebanese prime minister in Saudi Arabia.
President Aoun refused to accept Hariri's resignation and accused Saudi authorities of detaining the prime minister, calling it an act of "aggression" and asking foreign governments to intervene.
Saudi Arabia denied that Hariri was under house arrest.
Macron made a surprise visit to Saudi Arabia last Thursday and met with Saudi Crown Prince Mohammed bin Salman amid rising tensions between Saudi Arabia and Iran, particularly over Lebanon and Yemen. The talks were intended to ensure "the preservation of stability in the region," the French presidency announced at the time.
France and Lebanon: A long history
Hariri has a home in France and spent several years in the country. His father Rafik was a close friend of former French President Jacques Chirac.
France's role in Lebanon dates back to the end of World War One after Ottoman Turkish forces in Syria occupied the territory and appointed a Turkish ruler. Lebanon was captured by British imperial forces in 1918 and in 1920 the League of Nations gave France a mandate over the country which lasted until the 1940s. During those twenty years the authorities revised the Lebanese constitution and developed infrastructure, education and the economy along French lines.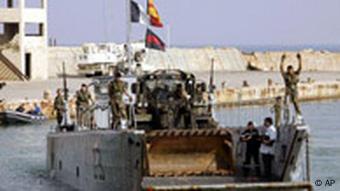 A 2006 file photo of UNIFIL troops in Lebanon
Macron has also said he plans to travel to Iran in 2018. If he does so, he would become the first French leader in nearly 50 years to visit the country. In 1971, the then Shah organized a sumptuous event to celebrate 2,500 years of the Persian Empire, believed to have been the most expensive 3-day party ever. Prime Minister Jacques Chaban-Delmas attended in the place of President Georges Pompidou.
France played a significant role, along with Germany, in the landmark 2015 deal designed to contain Iran's nuclear program in exchange for lifting international sanctions.
amp,jm/sms (Reuters, AFP, AP, dpa)