Where is Igor Plotnitsky? That question appeared to have been answered on Friday evening, as the leader of the self-proclaimed Luhansk People's Republic turned up in Moscow after several days and submitted his resignation following a week of infighting between rival factions in eastern Ukraine.
"Igor Plotnitsky has submitted his resignation for health reasons," said the head of the region's secret police, Leonid Pasechnik, in a video posted on a rebel news portal in Luhansk. Pasechnik said he would take control of the region as acting head ahead of a new election.
Plotnitsky has yet to comment on the situation.
The news came as leaders from the European Union and six former Soviet countries, including Ukraine, were meeting in Brussels for a summit aimed at deepening ties. Moscow's role in the Ukraine conflict, however, was not on the agenda.
Read more: Ukraine separatist 'Little Russia' sparks concern over peace deal
Standoff in the streets
The past few days have seen signs of growing discord among the pro-Russian rebels in eastern Ukraine. Scenes reminiscent of the early phase of Russia's annexation of Crimea in early 2014 have played out in Luhansk. "Military-type vehicles and unidentified armed men" sealed off streets in the city center for two days, a development confirmed by the observer mission run by the Organization for Security and Cooperation in Europe.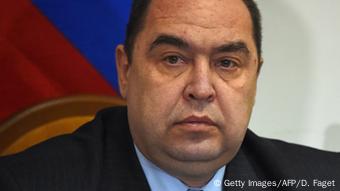 Until Friday evening, it was unclear where Plotnitsky had gone
Plotnitsky had accused his interior minister, Igor Kornet, of plotting a coup and fired him on Sunday, sparking the standoff in the streets.
There had been many indications of an escalating power struggle between Plotnitsky and Kornet. Some reports have said Kornet is the subject of investigations, accused, among other things, of having taken illegal possession of a private house.
A DW source with good contacts in Luhansk suspects financial issues are behind the dispute, saying "it seems to be about redistributing sources of income."
The situation in Luhansk is "quiet overall," the source said, adding that most residents are not expecting any changes, no matter who is in charge.
On Wednesday, with the streets in Luhansk still blocked, Ukraine's Foreign Minister Pavlo Klimkin said a "showdown" was taking place — not just between "bandits," but also between Russian security agencies. Dmytro Tymchuk, a member of the Ukrainian parliament, posted on Facebook that the mysterious armed men were members of a private Russian military company, tasked with preventing the conflict between Plotnitsky and Kornet from escalating. Tymchuk also wrote that several trucks carrying regular Russian troops had also arrived in Luhansk — though his statements could not be independently verified.
Russia has denied the presence of its army in eastern Ukraine. On Friday, President Vladimir Putin's spokesman, Dmitry Peskov, declined to speak about the current situation in Luhansk.
Read more: Debunking the myth of vulnerable Russians in eastern Ukraine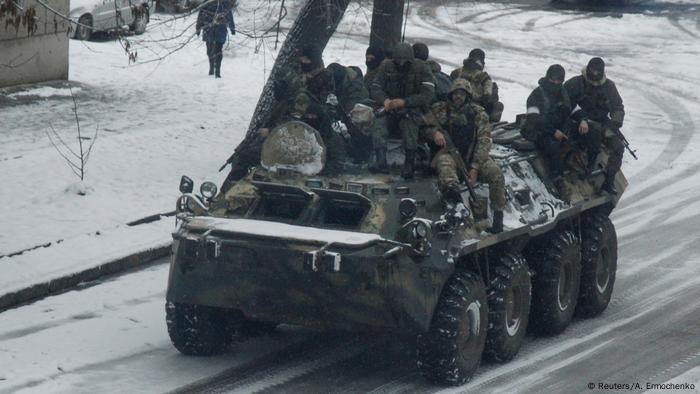 Armed men wearing masks blocked off the center of Luhansk with military vehicles
Boost from Putin
The 53-year-old Plotnitsky had been in charge of the Luhansk People's Republic since August 2014. His predecessor, Valery Bolotov, worked tirelessly to split the region from the rest of Ukraine in the first fierce phase of the war. Until recently, Bolotov was living in Moscow — and he died there earlier this year, allegedly of heart failure. The precise details of his death remain unknown.
Plotnitsky's surprise resignation is an unusual development. Just last week, President Putin gave the separatist leader a boost by directly speaking with him and his counterpart in Donetsk, Alexander Zakharchenko, by phone for the first time. The conversation was about new efforts to bring some movement to a prisoner exchange with Kyiv, an effort that has been stalled for years. The exchange is part of the agreements under the Minsk peace accord, most of which remain unfulfilled.
But now, with a change of power in Luhansk, the Minsk accord could slow even further — or even be called into question. Putin's spokesman, Peskov, said on Friday, however, that there was no alternative to the Minsk agreement.
For their part, the Ukrainian armed forces have said they're prepared for a potential escalation in the conflict, according to a DW source in the Kyiv-controlled part of Luhansk.
In Kyiv, there has been speculation about another possible explanation for the recent events: a merger between the proclaimed "republics" of Donetsk and Luhansk. Over the summer, Zakharchenko had already floated the idea of a new state called Malorossiya, or "Little Russia." At the time, the response Luhansk gave to the idea was less than enthusiastic.