Four months after a gunman killed 58 people and wounded nearly 500 others at a Las Vegas music festival, US authorities have arrested and charged a suspect in connection with the shooting for the first time.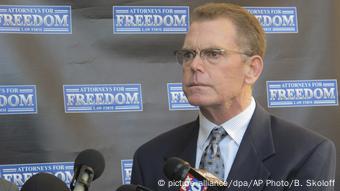 Haig said he didn't know what the Las Vegas shooter was planning
Douglas Haig, a 55-year-old from the US state of Arizona, was charged on Friday with making and selling armor-piercing ammunition without a license.
Read more: 8 facts about gun control in the US
Haig allegedly sold the armor-piercing bullets to the Las Vegas shooter, 64-year-old Stephen Paddock, in the weeks leading up to the October 1 attack.
Prosecutors said they found Haig's fingerprints on some of the reloaded, unfired armor-piercing bullets found inside the hotel room Paddock used to carry out the shooting.
Read more: Trump in Las Vegas: 'Our souls are stricken with grief'
Haig told investigators he doesn't offer reloaded cartridges for sale and that none of the rounds at the Las Vegas crime scenes would have tool marks that match his reloading equipment. Prosecutors, on the other hand, said the marks on the casings were consistent with the equipment in Haig's backyard workshop.
According to the criminal complaint, Haig previously ran Specialized Military Ammunition, an internet business that sold armor-piercing bullets, which also included incendiary and high-explosive rounds.
Las Vegas police have declined to comment on whether the armor-piercing bullets were used in the shooting.
Read more: After Las Vegas shooting, NRA calls for legal review of bump stocks
'I had no contribution' to the shooting
Haig has already acknowledged that he sold Paddock 720 rounds of tracer ammunition, which are bullets that contain a pyrotechnic charge that illuminates the trail behind a fired bullet, helping a shooter check their aim.
Paddock also visited Haig's home in Arizona one month before the shooting to complete the ammunition sale, but Haig has denied knowing about the gunman's plans.
"I had no contribution to what Paddock did," Haig told reporters earlier Friday. "I had no way to see into his mind."
He added that the type or quantity of ammunition Paddock bought was not unusual.
Read more: Motive eludes investigators in Las Vegas massacre
Haig was released on bail pending a preliminary hearing on February 15 in Phoenix. He faces up to five years in prison and a $250,000 (€200,600) fine if convicted.
Authorities have not yet determined what prompted Paddock to open fire on a packed country music festival from his 32nd-floor room at the Mandalay Bay hotel before taking his own life.
Investigators believe he might have lost a significant amount of money playing video poker before the killing spree. While analyzing his computer, investigators uncovered searches about firearms as well as "numerous photos of child pornography," Clark County Sheriff Joe Lombardo said in January.
The Las Vegas attack is the deadliest mass shooting in modern US history.
rs/cmk (AP, AFP; Reuters)