Twelve of the weapons used by the Las Vegas killer to shoot his victims were modified with a "bump stock" to allow the semiautomatic rifles to fire faster. Though it enables weapons to fire at nearly the rate of a machine gun, the bump stock is not banned under federal law.
In its first public statements since the Las Vegas shootings, the National Rifle Association (NRA) called on the Bureau of Alcohol, Tobacco, Firearms and Explosives "to immediately review whether these devices comply with federal law."
In a joint statement, CEO Wayne LaPierre and Chris Cox, the executive director of the lobby's Institute for Legislative Action, wrote that the NRA believes "that devices designed to allow semiautomatic rifles to function like fully automatic rifles should be subject to additional regulations."
Such a statement from the influential US lobby group that is a strong supporter of gun ownership is unusual.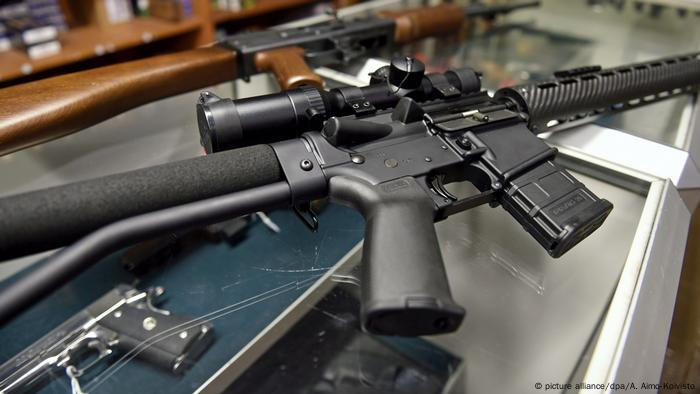 A US-made AR-15 Armalite Rifle
House Republicans open to review?
House Speaker Paul Ryan added his voice to those of other leading Republicans considering possible regulation of guns following the Nevada killings.
After admitting he only learned of bump stock devices this week, Ryan said on Thursday: "Fully automatic weapons have been banned for a long time. Apparently this allows you to take a semi-automatic and turn it into a fully automatic so clearly that's something that we need to look into."
Democratic Senator Dianne Feinstein introduced a bill Wednesday to ban the devices but it remained unclear if Republicans would allow it to proceed through to law.
The NRA has used its considerable power and influence to block previous legislation on gun control. It has not yet made its views known on Feinstein's bill.
White House press secretary Sarah Huckabee Sanders said Thursday that the administration was open to reviewing policy on bump stocks.
According to the pro-gun control Mass Shooting Tracker, there have been 341 mass shootings in the USA so far this year.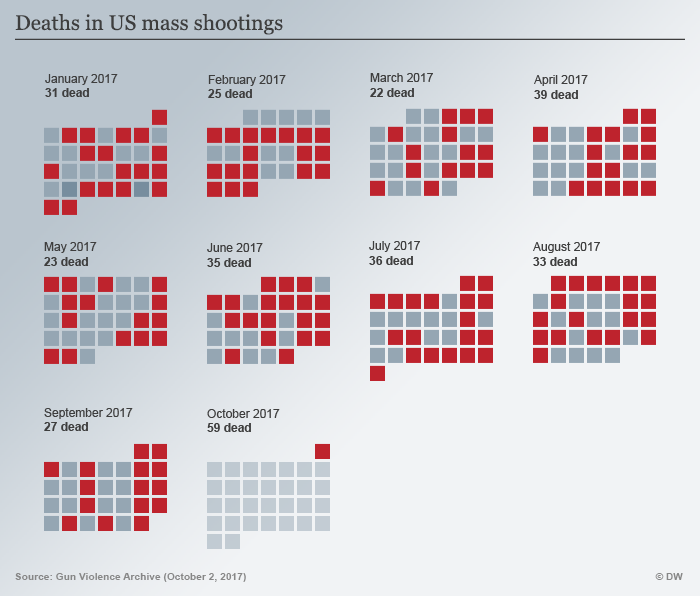 The Congressional Research Service puts the number of guns in the USA at more than 300 million guns. That is about twice as many guns per capita as there were in 1968 and represents 88 guns for every 100 people.
jm/msh (Reuters, AP)