The Strasbourg-based rights court issued the ruling last week in favor of 23 Bulgarian nationals living in a settlement with about 250 other Roma.
The Roma had settled in Batalova Vodenitsa, on the outskirts of Bulgaria's capital Sofia, in the 1960s and 70s.
The 1990s saw growing hostility against Roma in Sofia, including some politicians calling for the emptying of "Roma ghettos."
Citing tensions with neighbors over the makeshift homes, which lacked building permits and didn't fulfill safety regulations, a local court in 2006 upheld an eviction order by Sofia authorities after the land was privatized.
The Roma, also known as gypsies, have been pushed to the margins of European society and have even become targets of persecution.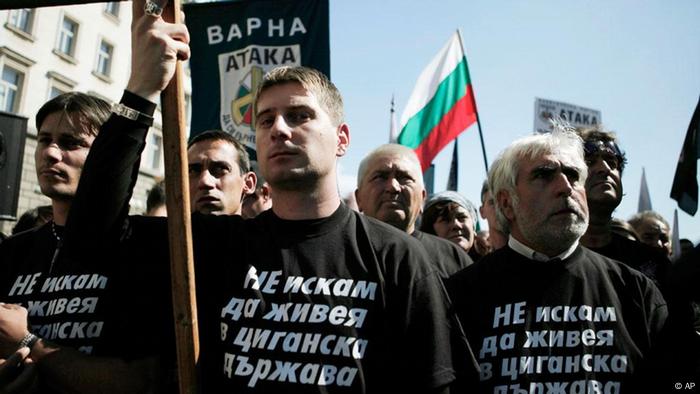 Anti-Roma sentiment in Bulgaria remains high - members of the nationalist Ataka party wear t-shirts with the slogan "I don't want to live in a Gypsy country" during a protest in Sofia last year.
Pressure from the European Union prevented the Sofia eviction from taking place. Now, the European Court of Human Rights has ordered Bulgaria to change its removal law.
Any such removal must provide special consideration of vulnerable populations, such as elderly and children, the ruling stated.
"It means the authorities can't evict these communities without safeguards," said Barbora Cernusokova, an Eastern Europe specialist with Amnesty International.
The "landmark judgment" is also important since with it, the court officially recognized discrimination against the Roma community, Cernusokova said.
The ruling "provides a guideline as to how other countries should approach Roma rights," Cernusokova said.
She cited a similar eviction case relating to a settlement in Craica, Romania. The rights group has also spoken out against evictions of Roma outside of Belgrade, the Serbian capital.
The EU last year adopted a framework for inclusion of the often marginalized Roma into society, which includes education, employment, and health and housing goals.
The Roma or Romani population in Europe comprises 8 to 12 million people, and is centered mostly in Central Eastern Europe.
In addition to ordering the Bulgarian government to change its policy, the human rights court said it must pay court costs of 4,000 euros ($5,300).
Author: Sonya Angelica Diehn
Editor: Jessie Wingard