A thin layer of ice covers the scraggy terrain around Keflavik airport with snow-capped mountains gleaming in the distance. It's not exactly high season for trips to Iceland's capital Reykjavik. But the women arriving at the international airport on this cold Tuesday are here for politics rather than scenery.
First female president, still shaping the political agenda
In 1980, Vigdis Finnbogadottir was elected president of Iceland. She was the first democratically elected female head of state anywhere in the world. "The key to women's emancipation is education," she tells DW.
To this day, Finnbogadottir wonders why she took so long before deciding to become involved in politics. Now, she is urging young women to become more active in politics as only then can they advance issues that are important to them, she says.
Today, gender equality is part of the school curriculum in Iceland and women hold 47 percent of the seats in the country's parliament.
Finnbogadottir is now 87 years old but is still very much politically active. She is one of the hosts at the annual meeting of the Women Political Leaders Forum (WPL) in Reykjavik. The WPL is a global network of female politicians, which pushes for greater female representation and influence in global political leadership.
Read more: Media and gender equality: 'Empower women and change the structures of power'
"Less than 10 percent of the key positions in politics are occupied by women," stresses Silvana Koch-Mehrin, president of the WPL, at the opening event. Slightly pained, she adds: "We are a rare species."
Politicians and entrepreneurs
But the event in Reykjavik shows that these days, female politicians network in a targeted way to shape the political agenda.
In one part of the room you have the Irish senator Alice Mary Higgins, who is campaigning for a non-discriminatory tax policy in her home country. Close by is Paloma Noceda Chiang, a member of parliament from Peru, whose topic is sports policy. Both start talking immediately. Business cards are exchanged and contacts shared.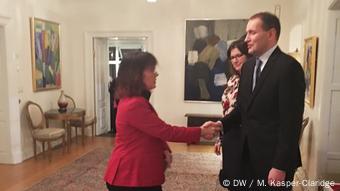 The Icelandic President Gudni Johannesson meets Deutsche Welle's Manuela Kasper-Claridge
About 250 female politicians have come to Reykjavik and some of them are successful entrepreneurs as well. They discuss digitization as well as opportunities for female entrepreneurs in emerging markets. Zipporah J. Kittony, a Kenyan MP, talks about the struggle against corruption in Africa, where a political culture that rarely takes notice of women prevails in many countries.
Lean in
Helen Clark was prime minister of New Zealand from 1999 to 2008 and also served as administrator of the United Nations Development Program (UNDP) from 2009 until this year, when she stepped down.
She has learned that it doesn't help much to simply complain. At the WPL meeting, she tries to encourage women. "Lean in," she says, "take responsibility" — an appeal that is aimed at young women in particular.
Iceland is already quite a way along the road. The World Economic Forum has ranked the country, located on the edge of the Arctic Circle, at number one in the world in terms of gender equality.
"The people of Iceland are proud of that," says the country's president Gudni Johannesson. He personally hosted the visiting politicians in an evening reception at his residence where he insisted on greeting every woman personally.
A freezing wind is blowing outside, but inside the politicians don't feel it at all.