For the second time in less than two years, Russian opposition politician and Kremlin critic Vladimir Kara-Murza's life is in danger. On Thursday, he was taken to a hospital in Moscow. According to the doctor in charge, the patient's condition was critical, his lawyer and confidant Vadim Prokhorov told DW. Due to multiple organ failure Kara-Murza had been put into an artificial coma, he added: there was no diagnosis yet, but the symptoms were similar to those he showed in 2015.
At the end of May 2015, Kara-Murza succumbed to a sudden illness for the first time. At the time he was in a coma as well and spent several weeks in intensive care. When he, some time later, was examined abroad, doctors found high levels of heavy metals in his body. Kara-Murza suspected he'd been poisoned on political grounds and asked Russia's Investigative Committee (the country's highest-ranking law enforcement agency) to initiate judicial proceedings. This hadn't happened thus far, his lawyer said.
Opposed to Putin, close to Nemtsov
35-year-old Kara-Murza is the son of the renowned TV anchor of the same name. Unlike his father, Kara-Murza jr. is not well known to large audiences in Russia. He studied History at the British elite university Cambridge and followed, initially, in his father's footsteps as a journalist. At the end of the 1990s, he became increasingly attracted to politics. Vladimir Kara-Murza changed party allegiances three times, always remaining, however, in opposition to the government of President Vladimir Putin.
Most recently, the politician had been a board member of the right-wing liberal Parnas opposition party, which he left in December 2016 because he was opposed to the party's collaboration with nationalist politicians. Since 2016, Kara-Murza has been chairman of the Nemtsov Foundation for Freedom, named after Russian opposition leader Boris Nemtsov who was murdered in 2015. Nemtsov had been a Parnas member, too. Kara-Murza was his close friend and one of his advisors. His earlier inscrutable illness broke out three months after Nemtsov was murdered in Moscow.
A short time prior to his most recent illness, Kara-Murza had submitted a request for a Nemtsov march - a commemorative rally - to Moscow's municipal administration, opposition politician Ilya Yashin told DW. "Of course Kara-Murza feared for his life," Yashin said. "He took his family to the United States, but he himself returned and continued his work." It had been a courageous step, Yashin added.
Under pressure ahead of the election
Apart from chairing the Nemtsov Foundation, Kara-Murza works for the "Open Russia" NGO of former oil tycoon and Kremlin critic Mikhail Khodorkovsky, who lives abroad after serving ten years in jail. In November, Kara-Murza was elected as a board member of the movement. Initially, Khodorkovsky did not want to comment on Kara-Murza's new illness. "Yes, there was a certain pressure on Vladimir, we see that," Khodorkovsky told Nemtsov's daughter, DW reporter Zhanna Nemtsova, in an interview with her on Thursday. "Regrettably, however, there are risks for every politival activist in our country."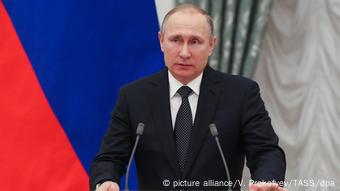 Russia's president Vladimir Putin
Khodorkovsky apparently also referred to incidents that took place prior to the parliamentary elections in September 2016. Kara-Murza, along with other opposition politicians, had been briefly detained in St Petersburg over "an unauthorized rally." Some weeks later, he was pelted with eggs in a café by unknown persons.
Call for western sanctions
A number of times, Kara-Murza has advocated Western sanctions against Russian top politicians. This made him powerful enemies. Following the murder of Nemtsov, in April 2015 he travelled to Washington, accompanied by former Russian Prime Minister and opposition politician, Mikhail Kasyanov. The pair handed over the so-called "Nemtsov list" to US Congress lawmakers. It contained eight names of high-ranking Russian journalists and politicians who are allegedly responsible for public rabble-rousing against Nemtsov. Kara-Murza and Kasyanov called on the US government to introduce sanctions - such as travel bans and blocked bank accounts - against those persons.
Further, during the Russian annexation of Ukraine's Crimean peninsula in March 2014, Kara-Murza called for sanctions against Russian top politicians in a "Washington Post" article. And in 2009, he had attempted to trigger consequences from the death of the Russian lawyer and anti-corruption fighter, Sergej Magnitsky. The lawyer had died in prison that year. The US blamed Russia for his death and introduced the Magnitsky sanctions, blacklisting 18 individuals, at the end of 2012.