It was a bizarre performance: no one was sitting in the dock when a Moscow judge announced his verdict on Thursday (11.07.2013). The accused - Sergei Magnitsky, a lawyer for the US investment fund Hermitage Capital Management - died in Russian custody four years ago. Despite widespread international protest over the controversial and unprecedented posthumous trial, he has now been found guilty of tax evasion.
Aside from Magnitsky, former head of the fund William Browder, a US citizen living in the UK, was sentenced in absentia to nine years in prison, also for alleged tax offenses.
Sharp criticism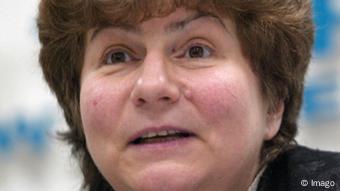 Moskalenko called the ruling a "gross legal error"
The sentences were the culmination of a long legal drama that has stirred up controversy to this day. For Western politicians and media, the name Magnitsky has become a symbol of the arbitrary nature of the Russian judicial system. After the verdicts were announced, Russian human rights activists renewed their criticism.
"To posthumously condemn a man is a gross legal error," said Karina Moskalenko, a lawyer and human rights expert with the Moscow International Protection Center, in an interview with DW. She said that such an approach cannot be justified.
In 2008, Magnitsky uncovered claims of tax fraud and corruption by Russian authorities, amounting to millions of dollars. But public prosecutors did not investigate his allegations. Instead, they accused him of tax evasion in the amount of more than 13 million euros ($16.9 million).
Death in custody
Magnitsky spent 11 months in custody. Over that time, the lawyer's health deteriorated and he repeatedly complained about his conditions in detention. In November 2009, Magnitsky died at the age of 37.
To this day, the cause of death is disputed. They range from acute pancreatitis to heart failure as a result of mistreatment in prison. Magnitsky's supporters have accused the Russian authorities of failing to provide medical care. A state-ordered investigation into the death has failed to confirm this; instead, it pinned the cause on a heart failure due to pre-existing medical conditions.
Putin rejects torture allegations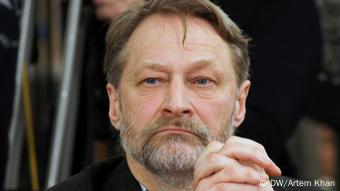 The judgment is meant as a message to the West, Oreshkin said
Russian President Vladimir Putin has personally defended the Magnitsky court. "There was no malice, no sloppiness," Putin said in a television interview in late April, adding that the allegations of torture were also false. According to him, the lawyer's death was "a tragedy." More recently, Putin has reacted irritably to even the mention of Magnitsky. Hardly a news conference with Western politicians goes by without someone bringing up the lawyer who died in prison.
With Thursday's judgment, Russia hopes the discussion will come to an end, many observers in Moscow say. Dmitry Oreshkin, a politics expert and independent activist, sees the judgment as a message to critics in the West. "It looks like the principle of an eye for an eye," Oreshkin told DW, saying that Russia came up with the guilty verdict in response to the passing of the Magnitsky Act late last year in the US.
The Magnitsky Act, passed by the US Congress in late 2012 in reaction to Magnitsky's death, imposed travel bans and froze the assets of Russian officials suspected of being involved in the lawyer's death. The European Union has also called for a similar list.
Corruption still on the rise
For Hans-Henning Schröder, a Russia expert at the Berlin-based German Institute for International and Security Affairs, the judgment against Magnitsky is yet another signal: that even a dead person's name can be tarnished in an attempt to wash away allegations of fraud and negligent homicide against the Russian courts.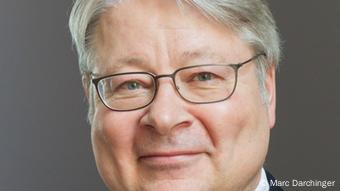 According to Schröder, the ruling reflects badly on the campaign against corruption
The allegations also shed negative light on the ongoing campaign against high-level corruption. "The verdict against Magnitsky signals that a corrupt official will no longer have to fear an investigation into his activities," said Schröder.
Corruption in Russia is still rampant, with the press reporting on a near-daily basis on new scandals that reach to the government's top circles. Following one such report, Defense Minister Anatoly Serdyukov resigned in response to corruption allegations against his ministry in the fall of 2012.
Putin has yet to fulfill his campaign promise to eradicate corruption - something which many Russians have noticed. On Tuesday (09.07.2013), anti-corruption group Transparency International published the results of a survey in Moscow, which showed that half of Russians surveyed believe corruption has increased in recent years. Only 12 percent of respondents said Russia has become less corrupt.
Transparency International has called Magnitsky a whistleblower who "paid with his life" for his revelations, honoring him with a posthumous award in 2010.