A three-meter tall, gold-sprayed statue of Bill Clinton stands on a corner of the long boulevard that also bares his name. Beside it an American flag flutters in the cold winter wind. On the facade of an apartment building behind it hangs a large portrait of the former US president, a broad smile on his face. It is one sign of Kosovo's special relationship with America, and with the Democrats and the Clinton family in particular.
Just a few meters away from the Bill Clinton statue, a shop window bares the name Hillary. It is a woman's clothing boutique, selling Hillary Clinton-style business casual pant suits and fitted jackets. The owner, Elda Morina, is a huge fan of Mrs. Clinton. "She has a classic style, practical but elegant," she tells DW. "But it's also her character, she's a strong woman, a real inspiration."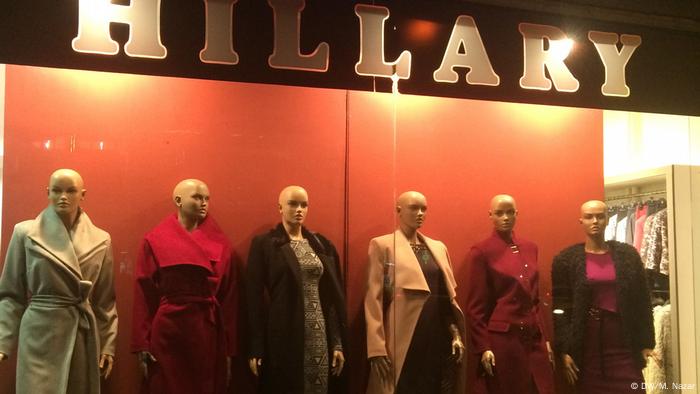 The Clintons' influence is omnipresent in Pristina
During the Kosovo war at the end of the 1990s, it was the Americans lead by then-President Bill Clinton that came to Kosovo's rescue with a military intervention against Serbia. The US has since always backed Kosovo in its quest for independence.
Groups of students pass by the Clinton statue on their way to university every day. Besa, a 20-year-old mathematics student, says she's proud to have such a statue in her city. "It is the least we could do," she said. "He helped us to be free, when there was a war in Kosovo. Now we even celebrate the 4th of July. We like America very much."
The Trump factor
Besa has followed the presidential elections closely, and the election of Trump has left her and others tense and in a state of limbo. "We are scared of Donald Trump, because he could make changes that are bad for Kosovo," she told DW.
Kosovo is still in the process of recovering from a conflict that's far from resolved. When Kosovo, which is overwhelmingly Muslim, tried to secede from Yugoslavia, a brutal armed conflict followed. It was fought between the army of then-Yugoslavia (nowadays Serbia) and the Kosovar Albanian rebel force, the Kosovo Liberation Army (KLA). In March 1999, after a year of fighting, the United States lead a NATO intervention against Serbian strongman Slobodan Milosevic. A three-month long NATO bombing operation saw Milosevic withdrawing his troops from Kosovo and the war come to an end.
NATO troops have since been deployed in Kosovo under the peace-keeping mission KFOR. Kosovo unilaterally declared independence from Serbia in February 2008. Serbia still considers Kosovo as their province, but Kosovo has been recognized by 113 UN member states to date. The UN security council however, does not recognize its sovereignty due to Russia and China using their veto against Kosovo's independence, backing Serbia. Many feel that whatever dim prospects there were for official UN recognition they have now been extinguished by the election of Donald Trump.
"The reason why we were successful internationally, was because of active engagement with the US," said Agron Demi, a policy analyst at the Kosovar thinktank GAP. "We relied on US lobbying a lot to get more recognitions. We still have only 113 countries on our side, but we need a lot more," he added.
Demi fears that support from the United States might change when Trump becomes president. "There are a lot of people, including me, that think it's going to be more difficult for Kosovo with a Trump presidency," he told DW. "Democrats have always supported the Kosovo cause. We need that support and now with Trump I'm afraid we will not have it."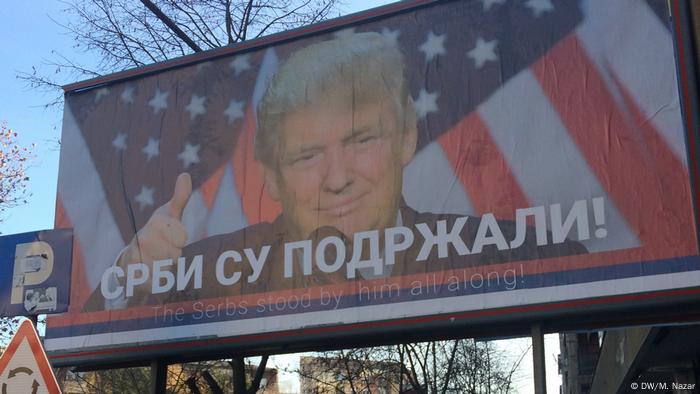 Kosovo Serbs hope that Trump will help make Kosovo a part of Serbia again, whereas Kosovo Albanians are worried about his policies
Part of that fear can be explained by the NATO presence in Kosovo. During his presidential campaign, Donald Trump questioned whether America should continue defending its NATO allies if he became president if they failed to increase their military spending for the alliance. Earlier this week he called NATO "obsolete," causing further unrest.
Kosovo's struggles
Kosovo does not have an army of its own and relies on NATO to protect its administrative borders. Pristina does not have control over its northern territories, which are effectively still controlled by Belgrade.
In northern Kosovo the majority of citizens are Kosovo Serbs, who make up roughly five percent of the population. The country's divide is visible in the city of Mitrovica, where an infamous bridge over the river Ibar separates the Kosovo Albanians from the Kosovo Serbs.
Dozens of Donald Trump billboards have appeared in Kosovo's North in the past months, showing that Serbs support Donald Trump. "People in the North are hopeful that Trump will help them make Kosovo a part of Serbia again," said Demi. "This is worrying and it harms the relationship between Kosovo and Serbia."
Pristina and Belgrade have been engaged in EU-facilitated negotiations since 2011, in an attempt to normalize their relationship. But ties between the two states have worsened after the recent arrest of former Kosovo President Haradinaj in France at Serbia's request. And in another twist a Serbian train bearing the words "Kosovo is Serbia" in 21 languages that was meant to travel from Belgrade to Mitrovica was stopped just before it reached the administrative border at the behest of Serbia's prime minister, who believed an attack on the train had been planned by Kosovo Albanians.
Unconditional love?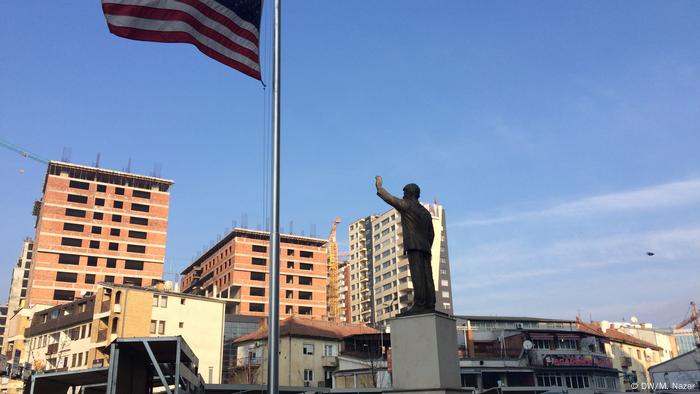 Waving bye-bye to bilateral ties?
Kosovar officials have so far voiced cautious concern about the power shift in the US. President Hashim Thaci formally congratulated Trump after his election victory. "Everlasting friendship between our countries and people is in the foundation upon which we will continue deepening bilateral cooperation," Thaci said diplomatically.
Trump has not yet commented on his views and future policies toward Kosovo and the Balkans. "No one knows what Trump will do," Agron Demi concluded. "We can only wait and hope that our relationship with the US and NATO will not change for the worse."
The owner of the Hillary clothing boutique, Elda Morina, is disappointed that Hillary Clinton did not become the first female American president. But she said she respects America's decision too. "If the Americans feel good with Trump, it's okay for us," she said. "We love the Americans, with no conditions."