Kosovo police set up a blockade to stop a train bearing Serbian national symbols from entering the country late Saturday in move that has stirred sentiments between both nations.
Serbian authorities sent the controversial train to Kosovo over the weekend, but later halted it just outside its former province. The Russian-made train carried the words "Kosovo is Serbia" in 21 languages, including Albanian.
At a press conference in Belgrade, Prime Minister Aleksandar Vucic accused ethnic Albanians of trying to plant explosives on the railway.
They were trying to start "a wider conflict in this territory that we consider as ours," Vucic said. "It was my decision to stop the train in (the border town of) Raska to preserve the freedom and lives of our people, to prevent a wider conflict and show that we want peace."
"We sent a train, not a tank," Vucic added.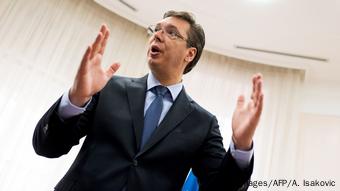 Vucic: "A train, not a tank"
While Kosovo police denied trying to blow up the railway, media has shown footage of special police units moving to the border in armored vehicles.
Kosovo's President Hashim Thaci said he told the interior minister to stop the train from entering Kosovo "at any cost." Thaci also told the online newspaper "Gazeta Express" he was forced to take action because the government was neglecting the issue.
"Enough is enough," said Thaci, who was one of the leaders of Albanian guerrilla troops during the 1998/1999 war.
'If Serbs are being killed, yes'
In turn, Serbian President Tomislav Nikolic said Serbia was ready to send its armed forces to the territory it considers a breakaway province, if the ethnic Serbian population in northern Kosovo was under threat.
When asked if Serbia is ready to deploy the army, Nikolic said: "If Serbs are being killed, yes."
Serbian premier Vucic also issued a "final plea and a clear warning to Albanians and a message to Serbs ... do not attempt to use weapons against Serbs in Kosovo as Serbia will not allow that," before ending the press conference without responding to reporters' questions.
While Kosovo declared independence in 2008, Serbia has not recognized the separation. NATO-led troops have continued to control Kosovo's borders since 1999, when the alliance intervened to stop a bloody crackdown on separatists.
dj,ls/tj (AP, Reuters)