If Borussia Dortmund's season could be personified in one player, it would be Henrikh Mkhitaryan. The Armenian attacking midfielder has yet to find the back of the net this season and leads the league with the most shots without a goal - closing in on 30.
The glimpses Dortmund's number 10 showed last season on his way to being involved in 22 goals, have faded. With the goal at his mercy, Mkhitaryan shot straight at Frankfurt's Felix Wiedwald on Sunday night. The attacking midfielder is battling against a dip in self confidence - he still ran over 11 kilometers on Sunday night, and won 60 percent of his challenges - but he appears to have lost his nerve at the pivotal moment.
Much the same could be said of his teammates though. Borussia Dortmund's rotten run of form and luck see them rooted to the bottom of the Bundesliga heading into the 14th game of the league season - a matchday they open on Friday night against Hoffenheim.
Friday the day for Dortmund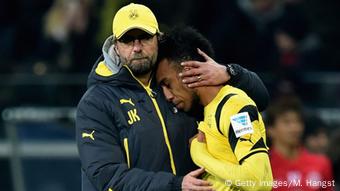 Father figure: Klopp knows his players
BVB coach Jürgen Klopp has also been under the spotlight, and with Dortmund starting as poorly as they have in the last 29 years, each game is labeled, predictably, a cup final.
"Friday evening is high noon," was Klopp's battle cry in Wednesday's press conference. In truth, it was less of a press conference and more of a rallying cry. The time for laughing is over and while Klopp still occasionally flashes his own wry smile, the jovial bounce of the pre-match has been noticeable by its absence.
For a lot of the team, this situation is new. Not for Klopp. "I know how a relegation battle works and how a team has to think in order to get out of it," he said on Wednesday.
"You don't win games 7-0. You take your chances when they come to you."
On top of taking chances - Dortmund have only scored 14 goals in 13 league games this season - it's high time Dortmund started preventing them too. Frankfurt's second goal on Sunday night was a comedy of communication errors in Dortmund's defense. This must stop if wins are to come.
Team confidence needeed
Klopp knows this and his team selection on Friday must carry the same weight as his words. It looks unlikely that Mats Hummels or Jakub Blaszczykowski will be risked, despite returning to team training, according to their coach: "We've got to see in training who is ready to take on this challenge and then I'll pick the team."
And his team will be in focus, which is why Klopp has shifted the support to them. "I don't need a vote of confidence, I've had it a thousand times before. The team needs it now," said Klopp.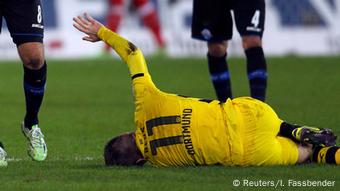 No Reus, no luck it seems for BVB
The time is very much now for Dortmund. Their best performance came against Gladbach this season, but even then it took a remarkable own goal to win them the game. In Europe, things could hardly have been better, but the shocking nature of their Bundesliga woes has seen their successful Champions League campaign fade into the background.
Leverkusen a lesson from the past
Dortmund must be warned. They are not just facing a relegation battle, but a battle against a catastrophe. The year after Bayer Leverkusen lost the Champions League final to that volley from Zinedine Zidane, threw away the league title on the final day of the season and lost the cup final, they finished in 15th - four points off relegation.
While Dortmund weren't lifting trophies last season, they were still showing all the signs of a side continuing to develop after years of financial struggle and inconsistency. The relegation zone must be nothing more than a fling for Dortmund.
Speaking to Sky Sports in Germany, former Liverpool midfielder Didi Hamman said, "They can't panic. Their confidence is on the floor, but a win or two could change that and would make the situation look very different by the winter break."
After a tricky test against Hoffenheim - a team lead by attacking aces Kevin Volland and Roberto Firmino - Dortmund travel to Berlin, then host confident-bursting Wolfsburg and are then on the road to a buoyant Bremen. The comeback could be easier, but it has to start now.