The island nation of Kiribati in the Pacific is facing a crisis. Sea levels on the country's 30-odd islands have been rising for some time. Now it has prompted a Kiribati man and his family to apply for environmental asylum.
Iaone Teitiota's application to New Zealand authorities, less than a month away from the UN-organized Warsaw Climate Change Conference, comes at a crucial time for climate change discussions, say experts.
"This case should actually give the next round of climate talks some sense of urgency," said Hermann Ott, an environmental lawyer and researcher on climate policy at the German-based Wuppertal Institute, in an interview with DW's World in Progress program.
Teitiota's claim for refugee status, which is now being considered by an appeals tribunal of New Zealand's High Court, included how rising ocean levels on Kiribati were contaminating drinking water and killing crops, as well as flooding homes.
Deadly paradise
Recently, Kiribati's government suggested relocating the entire island state's population of over 100,000 people, if predictions prove accurate that the sea will rise by one meter (3.25 feet) by the end of the century. At the moment, half of the population is crammed on to the central island of Tarawa, which comprises 32 square kilometers (12.4 square miles) of land.
New Zealandand Australia, the two most developed countries in the South Pacific, have in recent years resisted calls to change immigration rules in favor of Pacific people displaced by climate change.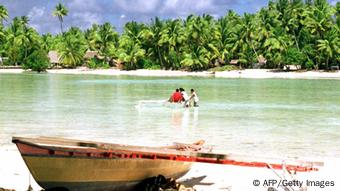 It might look idyllic but water levels on Kiribati are rising steadily, locals say
But, while conditions in Kiribati are difficult, they do not fall within the scope of the UN refugee convention, said Ska Keller, a migration policy expert with the German Greens party in the European Parliament.
"This document was drafted in 1951 and is mainly concerned with war and persecution issues," Keller told DW. "Global warming wasn't even an issue back then."
Part of a global problem
While the term 'climate refugee' remains unrecognized in international law, estimates of the number of people affected by climate change in the future continue to rise. British scientist Norman Myers helped bring the issue to light in 2002 when he wrote that global warming could displace 200 million people worldwide by 2050. Other, more recent, estimates have been as high as 700 million.
In Africa, for instance, problems such as desertification and the increased frequency of extreme weather events often force people to migrate within their own countries.
"One thing is for sure, it [migration as a result of climate change] is going to be a mass phenomenon soon," Hermann Ott said. "So I hope that more people do apply for this type of asylum in the future around the world."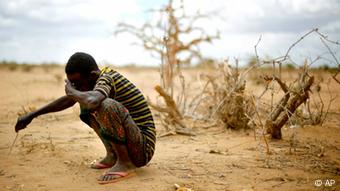 In Africa, climate change and famine is already forcing people to relocate
"We've seen before that if legal rights are being granted in one place, then courts will have regard for these rulings," Ott continued. "Maybe it will be the courts that ensure these refugees get the rights they need, rather than nations who are so concerned with national security."
Lawmaker Ska Keller said she would welcome a new, international agreement dealing specifically with people fleeing the effects of climate change in their homeland but suspects that could take too long.
"We shouldn't keep thinking about the concept of asylum. We need to use existing possibilities; there are regional agreements, in Africa for instance, and there is the UN Climate Panel," Keller told DW.
At the moment, Finland and Sweden are the only countries in the world to have passed legislation allowing people to apply for asylum for environmental reasons, but the processes there remain largely untested.
A unique case
The chances that the Teitiota case will open the floodgates for thousands of similar 'climate refugee' applications arelow, legal experts say. The circumstances in the case are unique. Thirty-seven-year-old Iaone Teitiota left his Kiribati home six years ago and settled in New Zealand under a work visa. He and his wife have since had six children, all New Zealand nationals.
"There's no future for us when we go back to Kiribati," he told an appeals tribunal at New Zealand's High Court, after an initial decision refused him asylum. Iaone Teitiota said a return to Kiribati would pose a risk to his children's health.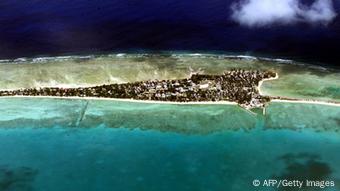 Spare space on Tarawa atoll, the main island of Kiribati, is at a premium
But Teitiota's lawyer, Michael Kidd, also confirmed to Australian media that his client's visa had expired due to legal complications and that he was therefore forced to apply for refugee status, as he had no other legal option.
Still, Kidd said it's time to extend the definition of refugees and for other countries to shoulder some responsibility.
"Australia and New Zealand are contributors to climate change because we have higher than average carbon dioxide emissions," Kidd told the ABC's "Pacific Beat" program. "It's because of this problem that sea levels are rising."
A decision in Teitiota's case is expected by the end of October.