In a speech to the powerful Central Committee of the ruling Workers' Party on Saturday, North Korean leader Kim Jong Un lashed out at the US and said his country's nuclear weapons were a "powerful deterrent firmly safeguarding the peace and security on the Korean Peninsula and in Northeast Asia."
According to the state media, Kim also addressed domestic political issues in the meeting and made changes to the country's center of power.
Kim Jong Un's sister, Kim Yo Jong, was made an alternate member of the politburo, a replacement for Kim's aunt, Kim Kyong Hee, who had been an influential figure when former leader Kim Jong Il was alive.
Kim Jong Sik and Ri Pyong Chol, two of the three men behind North Korea's controversial rocket program, were also promoted.
North Korea's Foreign Minister Ri Yong Ho, who called Donald Trump "President Evil" in a speech to the UN General Assembly last month, was promoted to a full vote-carrying member of the politburo.
Read more: International Gallup poll: Diplomacy rather than war with North Korea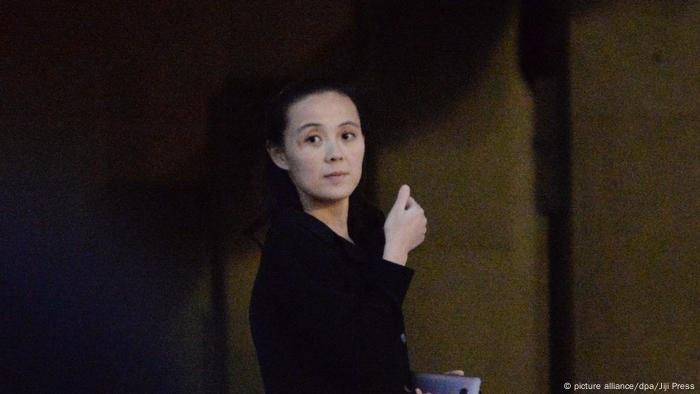 Kim Yo Jong is the youngest of Kim Jong Il's seven children and Kim Jong Un's younger sister
Kim Yo Jong's portfolio
Despite her active role in Kim Jong Un's administration, little is known about Kim Yo Jong in the outside world.
In January, the US Treasury put sanctions on the 28-year-old Kim Yo Jong along with other North Korean officials for committing "severe human rights abuses."
"It shows that her portfolio and writ is far more substantive than previously believed and it is a further consolidation of the Kim family's power," said Michael Madden, a North Korea expert at Johns Hopkins University's "38 North" website.
In a 2014 interview with DW, Madden said Kim Yo Jong was one of the North Korean dictator's "closest confidantes, but given the patriarchal nature of North Korea's political culture she is not a candidate for succession."
Read more: US-North Korea 'back-channel talks happening'
Assisting her brother
"Kim Yo Jong is the youngest of Kim Jong Il's seven children and Kim Jong Un's younger sister. Her mother Ko Yong Hui was a member of the prestigious Mansudae Art Troupe and was a common-law wife of Kim Jong Il's," Madden told DW.
"Kim Yo Jong received private tutoring at home and along with Kim Jong Un attended two schools near Berne, Switzerland, during the 1990s and early 2000s. She later attended university in North Korea and took courses in Western Europe shortly thereafter," Madden said.
Kim Yo Jong was first spotted standing next to her father's personal secretary and alleged mistress, Kim Ok, at the third Conference of the Workers' Party in September 2010.
In 2012, she was reportedly given the post of tour manager for Kim Jong Un under the National Defense Commission.
In October 2014, Kim Yo Jong had reportedly taken over state duties for her ailing brother while he underwent medical treatment. In November 2014, she was named vice director of the ruling party's Propaganda and Agitation Department.
"As one of her brother's close aides, she undertook additional administrative tasks — receiving reports, briefing her brother, forwarding his instructions, summoning senior officials," said Madden.
"This also happened when the late leader Kim Jong Il was recuperating from a stroke during the summer and autumn of 2008 with several people close to him ensuring the continuity of power — including his sister Kim Kyong Hui, his late brother-in-law Jang Song Taek and Kim Jong Il's technical secretary and widow Kim Ok. In a system like North Korea's, gatekeepers wield an enormous amount of power particularly when the leader is ailing."
Read more: Fighting Kim Jong Un's regime with balloons