On Friday, Kenyan authorities said the camps were having an adverse affect on the country's economy. Officials said the international community should take responsibility for the humanitarian needs of the refugees.
Kenya has hosted refugees for nearly 25 years, with a number of its neighboring East African countries facing protracted civil wars.
The government also disbanded the Department of Refugee Affairs, which worked with humanitarian organizations for the welfare of the refugees.
"The government of the Republic of Kenya, having taken into consideration its national security interests, has decided that hosting of refugees has to come to an end," said a statement released by Interior Ministry official Karanja Kibicho.
Kibicho pointed out that the voluntary repatriation process - the result of a 2013 agreement signed by the Office of the UN High Commissioner for Refugees and the Kenyan and Somali governments in 2013 - had been very slow.
The camps that will be shut down are Daadab and Kakuma. There are more than 328,000 refugees in the Daadab refugee camp in eastern Kenya - mostly the Somali refugees escaping an al-Shabab-led Islamist insurgency in their country. The Kakuma camp hosts 190,000 refugees, mostly from South Sudan.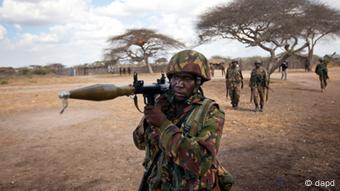 Kenyan troops are part of an African Union mission in Somalia
'Reckless move'
"The message is clear; we are closing the camps and we will not accept more refugees in the country," said Mwenda Njoka, interior ministry spokesman, adding that the new regulations were primarily aimed at Somali refugees, but those from other countries might also be affected.
Militant Islamist group al-Shabab has vowed attacks on Kenya for its role in peacekeeping in Somalia as part of the African Union forces. Kenyan officials claimed the Daadab and Kakuma camps are breeding terrorists for al-Shabab.
Rights groups have condemned the closure plans.
"Officials have not provided credible evidence linking Somali refugees to any terrorist attacks in Kenya. Human Rights Watch is not aware of convictions of Somali refugees in connection with an attack in Kenya," Human Rights Watch said in a statement.
Amnesty International called the move, which could risk the lives of refugees in their home countries, reckless.
"While it is true that resettlement to third countries has been slow, Kenya should itself consider permanent solutions towards the full integration of refugees, some of whose stay in Kenya is now over generations," said Muthoni Wanyeki, Amnesty's Africa head.