"Trade deals are the remit of the EU... Britain cannot complete trade deals with half the world - although it is doing the opposite," Juncker (above L) said on Thursday, adding that he believes it will take longer than two years to agree on all the arrangements for the UK to leave the EU.
"I do not think ... we will succeed within 24 months to clear up the arrangements for Britain's exit from the EU and to (forge) the whole relationship between Britain and the European continent," he said in a speech at the international Munich Security Conference.
British Prime Minister Theresa May (above R) has said she will trigger Article 50 of the EU's Lisbon Treaty in March and launch divorce talks, which could last up to two years.
Juncker also said at least 20,000 laws had to be changed in Britain before it could leave the bloc.
A new golden era?
The London and Beijing governments meanwhile said a new "golden era" in their relationship was dawning, pledging trade and cooperation during a Thursday meeting of Chinese Foreign Minister Wang Yi and his British counterpart Boris Johnson on the sidelines of a meeting of the Group of 20 largest industrialized countries in the western German city of Bonn.
China is one of the countries the UK hopes to sign a free trade agreement with after it leaves the EU. London and Beijing are keen to show that the UK's withdrawal from the bloc will not affect ties.
The two countries have in recent months announced closer cooperation in areas such as financial services as the British government prepares to negotiate the country's EU divorce.
Wang said that both nations would promote cooperation on projects such as the Hinkley Point nuclear power station in Britain and would look to strengthen their partnership on issues such as trade through close high-level exchanges, the Xinhua news agency reported on Friday.
The British Prime Minister Theresa May has been invited by China to attend a major summit on the "One Belt, One Road" initiative to build a new Silk Road, diplomatic sources told the news agency Reuters.
The return of Blair
Meanwhile, former UK PM Tony Blair is set to outline his mission to persuade the UK to stay in the EU in his first big speech since the EU referendum.
"The people voted without knowledge of the true terms of Brexit. As these terms become clear, it is their right to change their mind," he is expected to say. "Our mission is to persuade them to do so."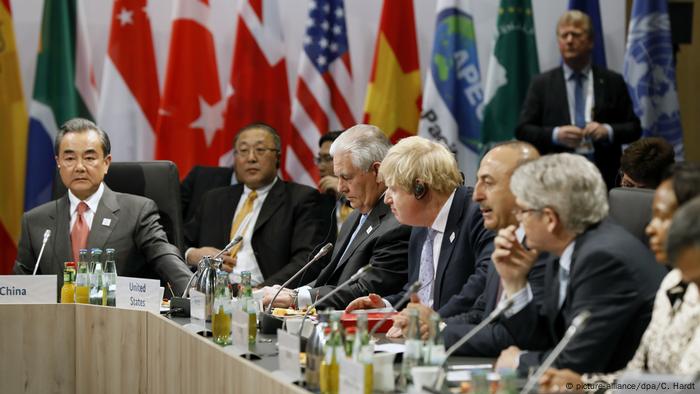 Wang Yi (China), Rex Tillerson (USA), Boris Johnson (UK), Mevlüt Cavusoglu (Turkey) at the G20 foreign ministers meeting in Bonn on February 16
"Our challenge is to expose relentlessly the actual cost, to show how this decision was based on imperfect knowledge which will now become informed knowledge, to calculate in 'easy to understand' ways how proceeding will cause real damage to the country and its citizens, and to build support for finding a way out from the present rush over the cliff's edge," the former Labour leader said.
"We do not argue for Britain in Europe because we are citizens of nowhere," he will say.
"We argue for it precisely because we are proud citizens of our country who believe that in the 21st century we should maintain our partnership with the biggest political union and largest commercial market right on our doorstep; not in diminution of our national interest, but in satisfaction of it," he is set to say.
"There is, in some parts of the country, a genuine concern about numbers from Europe - real pressures on services and wages. But for many people, the core of the immigration question – and one which I fully accept is a substantial issue - is immigration from non-European countries especially when from different cultures in which assimilation and potential security threats can be an issue."
jbh/kl (Reuters)