Pakistani journalist Hamid Mir, who hosts a popular political talk show Capital Talk on Geo - Pakistan's biggest private TV channel - and writes a column for Jang newspaper, narrowly escaped an attempt on his life on Monday when a bomb was found attached to the underside of his car.
Police said that half a kilogram of explosives had been fitted with a detonator under Mir's car in capital Islamabad.
Pakistanis one of the most perilous countries for journalists in the world. A 2012 UNESCO report has ranked Pakistan "the second most dangerous country for journalists the world over" after Mexico. According to the South Asian Free Media Association (SAFMA), 17 journalists were killed in South Asia in 2011, 12 of them in Pakistan.
Terrorism and Islamism are the most dangerous issues for Pakistani journalists to report on, SAFMA says.
Criticism of the Taliban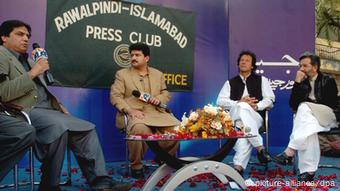 Mir's Capital Talk show is one of the most watched TV shows in Pakistan
Mir had voiced criticism of the Taliban shooting of Malala Yousufzai - a teenage activist who spoke out against the militants in their northwestern stronghold Swat and campaigned for girls' education.
"Life and death is in the hands of Allah. Allah saved his life but we will make a similar attempt again," Tehreek-e-Taliban Pakistan (TTP) spokesman Ehsanullah Ehsan told AFP. "Hamid Mir earlier shot into prominence for working in the interest of Islam and Muslims. We targeted him because now he is working against Islam and Muslims," he said.
Of late, Mir has been critical of the Pakistani military and the country's security agencies, particularly of the Inter-Services Intelligence (ISI) agency. Generally, Mir is considered a conservative journalist in Pakistan.
State or non-state elements?
Mir told DW in an interview that he would not like to point fingers at any group until the authorities finished their investigation of the case.
"Last month, when I conducted shows about Yousufzai, I started receiving death threats," Mir said. "I came to know that the interior ministry had sent letters to provincial governments informing them that the Taliban leader Hakimullah Mehsud had sent assassins after me." But he said he was not sure whether it was state or the non-state elements that wanted to see him dead.
Matiullah Jan, a Pakistan journalist and political analysts, criticized security agencies for failing to protect journalists. "You can blame the militants if a journalist is being attacked in northwestern tribal areas, but if something is happening in the heart of the capital then you get suspicious about government's agencies," Jan told DW.
Human Rights Watch has accused the ISI of involvement in the murder of journalist Shahzad
Many Pakistani analysts believe that the agencies are playing a dubious role in fighting Islamist extremists in the country. They claim that some militant groups are being backed by the ISI.
Imtiaz Alam, Secretary General of SAFMA, told DW that both state and non-state elements were against press freedom in Pakistan.
"So many journalists in Pakistan have been killed yet nobody has ever been brought to justice for these murders. The recommendations of the judicial commission investigating Saleem Shahzad's murder (allegedly killed by the ISI) have never been implemented," said Alam.
According to journalist Nasir Tufail in Karachi, the most perilous issues for Pakistani journalists to report on are ones regarding terrorism and Islamism. He said the journalists working on those issues had to be very cautious.
Criminalization of politics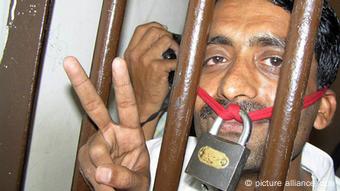 Journalists are threatened by both militants and Pakistani security officials
Ghazi Salahuddin, a senior journalist at the Jang newspaper, told DW that Pakistani journalists had to work under very difficult circumstances.
"Many journalists feel scared and threatened. Pakistani politics has been criminalized. It has become very difficult for journalists to perform their tasks freely," he said, adding that journalists' unions should ensure that the rights and lives of people working in the media were protected.
Several journalists' and rights organizations have announced they will stage protests on Wednesday against the attempt on Mir's life.