Germany coach Joachim Löw has refused to compromise on his philosophy as Germany look to exorcise the ghost of their dismal World Cup campaign.
Germany face France in Munich on Thursday in the inaugural game of the Nations League, and Löw defended his decision to make only three changes to the squad that failed to make it past the first round at the World Cup.
Read more: Five improvements Germany must make
"You're wrong if you think the only way up is with young players," said Löw, who wants a reaction from his established players. "I expect them to get the cart going again. We have to regain the conviction of defending our own goal come hell or high water."
"It's up to the team to light the spark and get excitement going again," Löw said. "Then the fans will get back on our side."
Kroos criticises Sane
Manchester City winger Leroy Sane has been recalled and will be eager to show his World Cup omission was an error, but Germany teammate Toni Kroos told German daily newspaper Die Welt that Sane has work to do to reach his potential.
"Sane has everything to become absolutely world class," Kroos said. "But one has the feeling that he has to be told what to do to become that. Maybe that's precisely the reasoning in Manchester too. I do not know, I'm not there.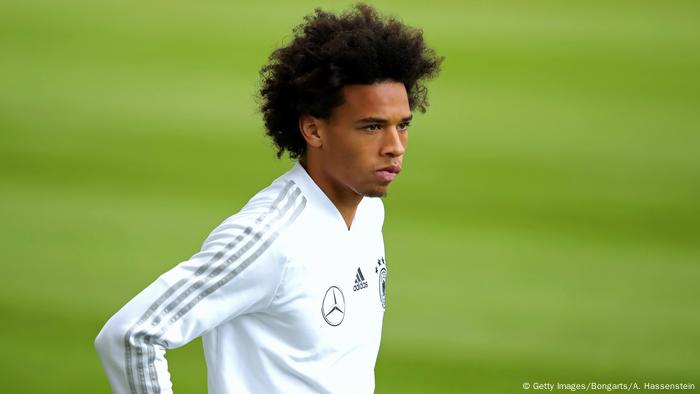 Leroy Sane was criticised by teammate Toni Kroos for needing to do more to fulfil his potential.
"What's clear is that you have to find a way to get him to his top performance. Then he would be a huge enrichment to us with his qualities, which are relatively rare when you look at our squad.
The Real Madrid midfielder added: "We do not have a player like Leroy with his qualities. With speed, with the left foot. He played a superb season at Manchester last year. Nevertheless, it feels as if now with Pep [Guardiola], that he also sees it and pushes him a bit – and does not let him play."
The issue that casts a shadow over the Germany team is the retirement of Mesut Özil from the international scene, following the furore around his pre-World Cup photo with Turkish President Recep Tayyip Erdogan. Özil was particularly scathing of Grindel for adding fuel to the fire.
"When a player tenders his resignation like that, then you don't bring him back eight to 10 weeks later," Löw said.
Löw under pressure
Löw is under pressure to show his decision to stay is the right one, while Grindel and the federation are under pressure after leaving the decision in his hands. The only post-World Cup managerial change was to put assistant coach Thomas Schneider in charge of the scouting department.
The three new call-ups - Nico Schulz of Hoffenheim, Kai Havertz of Bayer Leverkusen and Thilo Kehrer of Paris Saint-Germain - maintain Löw's long-established tendency to introduce new players after major tournaments, but many were expecting more wholesale changes.
Meanwhile, France play their first game since being crowned world champions after a 4-2 victory over Croatia in Moscow in July, and coach Didier Deschamps has warned his players that Germany are still a fine international team.
"Germany were world champions. Germany were favourites at this World Cup as well," Deschamps said. "It did not work out for them but the quality is there. They remain a top level team. I have a lot of respect for this team and for what it represents."
"We cannot under-estimate Germany. They are a great team with great players and they will look to be as efficient as possible tomorrow."