When Italy's Prada took over Jil Sander's German fashion house in 1999, the event was hailed in the fashion world as "a marriage made in heaven." Critics envisaged a fresh new synergy when two fashion heavyweights involved in the luxury goods business joined forces. "Both labels stand for sanity in fashion and a kind of post-modern good taste," The New York Times wrote at the time.
But the honeymoon ended unhappily a year later when Sander stepped down as chairwoman after presenting her last spring/winter collection amid rumors that she had come to loggerheads with Prada Chief Executive Patrizio Bertelli.
Now after three years of maintaining a low profile, Sander is back with the surprise announcement that she's returning to the company she founded in 1973. "Jil Sander will return to the company she founded, Jil Sander AG, with immediate effect," a statement published by Prada earlier this week said.
As well as attempting to revive the label's popularity, which observers say has suffered under the creative direction of her replacement, Milan Vukmirovic, Sander will join Prada's supervisory board. "Ms. Sander will sit together with Mr. Patrizio Bertelli and (his wife) Ms. Miucci Prada on the strategic committee of Prada Holding NV," the company said.
Sander's return good news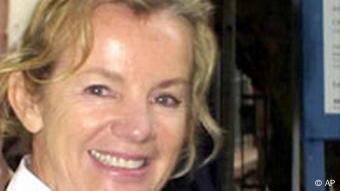 Designer Jil Sander
Sander (photo), who turns 60 in November, told German news agency DPA that she looked forward to perfecting the Jil Sander concept, which Prada and analysts hope will restore the flagging company's future prospects. "I'm very happy about this development, which is positive for both sides," the publicity-shy Sander said.
Prada chief Patrizio Bertelli, who created a furor in Germany in 1999 by buying up 75 percent of Jil Sander's common shares and a large part of its publicly-traded preference shares, has given a cautious welcome to Sander's return.
"I am happy that Jil has made this important decision," the Italian fashion mogul said in a statement. "I'm sure that she'll find the motivation and the resources in the company that she needs to realize her ideas and creativity."
Bertelli was vague about his reasons for getting back Germany's once most-important fashion designer back on board, saying only he was sure the company's fortunes would profit from Sander's return. Jil Sander AG slipped into the red last year when it made losses of €26.3 million ($30.78 million). It was the second-straight year of red ink for the company, which clocked up a loss of €10.7 million the previous year.
"Queen of Less" dazzles
A Hamburg native, Sander worked as a fashion writer and textile engineer before she opened her own boutique in the upscale Hamburg district of Pöseldorf in 1968. In 1973 she made her debut as a designer with her first women's collection marked by sophisticated and well-cut designs, but suffered a setback on account of production problems.
In the following years, Sander made a name with her elegant and simple creations characterized by clean flowing lines. The international fashion world soon began to take notice of the German designer whose use of expensive fabrics and manufacturing methods left even her simple lightweight sweaters costing much more than other designer collections.
In 1978, the Japanese magazine High Fashion included Sander among the 12 best designers in the world, while Vanity Fair dubbed her the "Queen of Less" for her luxurious minimalism. "I make fashion for the woman who dresses avant-garde casual, yet does not want to feel (as though she were) wearing a costume," Sander said at the time in an interview.
Jil Sander goes global
In 1979, Jil Sander AG launched its first cosmetics range, and in the early 1980s Sanders began to expand her company on the global market with her range of expensive clothing, accessories and perfumes. The Jil Sander collection was exclusively sold in 60 franchises worldwide, more than 250 outlets both within and outside Germany and a host of flagship stores in France, Italy and North and South America.
In 1989 the company went public on the Frankfurt Stock Exchange and in the first year made a profit of 26.4 million deutsche marks (€13.5 million). In 1996, Sander opened new showrooms in a tastefully-restored historic villa in Hamburg and in the following year created waves at the Milan fashion show with her first men's collection.
What next?
Sander, who is unmarried and rarely speaks about her personal life, is said to enjoy golf and collecting modern art. She has been honored with the Order of Merit of the Federal Republic of Germany, the country's highest civil honor, as well as prestigious fashion awards in Paris and Munich.
"I wanted to change something, I saw it as a mission," Sander once said in an interview. Many hope that she will succeed in doing that for a second time.