DW: On December 6, President Donald Trump recognized Jerusalem as the capital of Israel. What does this mean for the Palestinian Christian community living in occupied East Jerusalem?
Bishop Munib Younan: First of all I would like to say: Jerusalem is also dear to us Christians. And we think that any change of the status quo will not bring peace to the area. On the contrary, you are touching the nerve of the Palestinian-Israeli conflict. Jerusalem must be a place for peace, justice and reconciliation. Secondly, we believe that the historic status quo for the holy places must be maintained and not changed. And thirdly, we, Muslims and Christians, believe that the custodianship of the holy places in Jerusalem are in the hands of His Majesty King Abdullah II of Jordan. Had Mr. Trump said West Jerusalem is the capital for Israel and East Jerusalem the capital for Palestine, things would have been normal. But once again he ignored the Palestinians.
Read more: Jerusalem — Three things to know
What does Jerusalem mean for the Palestinian community?
Jerusalem is dear to us as Christians because it is the city of crucifixion, resurrection and ascension. For the Muslims, it is the city with their third most significant mosque on the Haram al-Sharif [also known as the Temple Mount — editor's note], and for the Jews it is important because of the temples. Secondly, Jerusalem has always been a place of peace and diversity for us. The measures that are sometimes taken in Jerusalem are taken unilaterally and only for one nation and one religion. And that is what frightens us. We Christians are an integral part of our people, and the aspiration of our Palestinian people is also our aspiration. And we are not only here as Christians, but as Arab Christians. We feel that Jerusalem is also for us, not only for us, but also for us.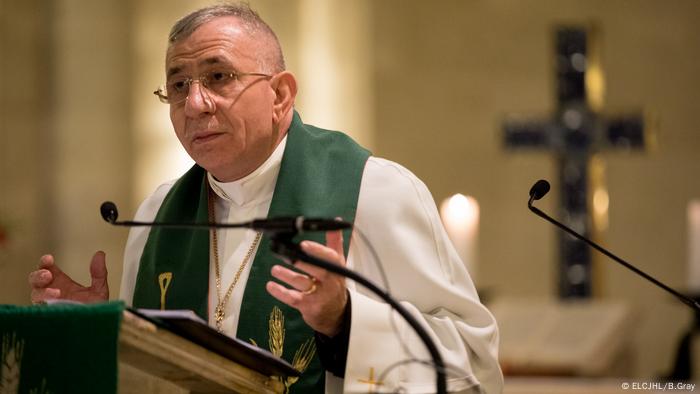 Munib Younan is Bishop of the Evangelical Lutheran Church in Jordan and the Holy Land. He was born in Jerusalem
The conflict in Jerusalem is not religious; there is no disagreement on why the three religions hold Jerusalem dear. It is a political disagreement on sovereignty. If Muslims, Christians and Jews can agree on Jerusalem we can solve the problem. Every narrative is right and emotional. We have to accept them — that is the richness of this place. We are all connected to Jerusalem: Jews, Muslims, Christians. Do not underestimate it. If you touch anything, it will create chaos. Jerusalem is not Berlin, it is not Washington.
Read more: Hezbollah's young adherents emboldened after US announcement on Jerusalem
DW: What do you tell your parish in times like these?
I tell my people that Christ was born in Bethlehem in times which were turbulent and problematic. He was not born in a time when there was peace and justice. Even in these difficult times, even if politicians sometimes take wrong decisions, we should not ignore that God is within us. Our God is inclusive, he loves the good and the bad, he loves Palestinians and Israel. He loves all of us, Jews, Muslims, Christians and even agnostics alike. We must not make God a tribal god, that he is with me and against the other. At Christmas time, we sing Glory to God, but peace on earth among people. And this is my message: Peace will come, justice will come, freedom will come. One of the things I tell my people: "Don't immigrate, don't leave this country. What is Jerusalem without Christians? It is not the same Jerusalem. Stay in the country."
Read more: 'Welcome to Jerusalem' exhibition explores a divided Holy City
According to a recent study, the emigration of the Christian population — as in past decades — is ongoing. If Jerusalem is so important to Christians, why do they leave?
There are four reasons: The first thing is the lack of peace on the horizon. Secondly, the measures of the [Israeli] occupation. Look at what has happened: the increase of settlements, the Israelization of Jerusalem, the restrictions of permits for family reunification. They marry a spouse from the West Bank and they cannot live together in Jerusalem [due to Israeli restrictions — editor's note]. Thirdly, unemployment is very high among youth under the age of 30. And lastly, the growth of extremism both in Palestine and in Israel.
They can go to Germany, the United States, Australia or Canada, where they can live in peace, be more free, move as they wish. We are worried, as church and as leaders of the churches. It weakens us, the more there is emigration. And we are asking our people to stay. But if my son or daughter asks me, I can't stop them. They say: "I can go to Germany, there I have all my rights. Here I don't have them." So what we need here — and I say this to the international community — the future of Christians in this country is not under [Israeli] occupation. Not in war, only in peace, only by living together, only by sharing this country, only by having equal rights, will people be able to stay.
Read more: Berlin — Hanukkah lights and anti-Israel demonstrations
Most countries have criticized the US decision. Do you expect the international community to be more involved?
The international community needs to be serious to bring peace to Jerusalem and to Palestine and to not to be one-sided. And they need to be honest brokers. It is time to do something, and it needs to be done quickly. Not only by giving statements. Israelis and Palestinians are longing for peace unlike what politicians are saying. Two nations that are clever, we can be a blessing to the whole Middle East.