When officials from the Japan Coast Guard boarded a squid fishing boat off Kyushu, southern Japan, on June 1, their suspicions were immediately aroused. The vessel was carrying no fishing equipment but had five Japanese nationals, three men with documents showing them to be Chinese and a number of large - and heavy - plastic cases aboard.
When the cases were opened, they revealed 206 bars of gold measuring about 11 centimeters long by 5 centimeters wide and 1 centimeter thick. Tests subsequently conducted by customs officials in the town of Moji suggest the gold bullion has had assay marks scraped off, but that it has a high purity and is worth around 1 billion yen (8.05 million euros).
Contamination turns Tokyo's new fish market into 'white elephant'
Hunger strikers highlight Japan's immigration issues
The seizure is the largest single amount of gold to be intercepted being smuggled into Japan - but experts here believe that it is merely the tip of the iceberg as the nation's hard-pressed "yakuza" underworld groups move into a new and lucrative new criminal enterprise.
And a number of high-profile cases in recent months support those assumptions.
Massive gold robbery
In April, three men pulled off a daring daylight robbery in the city of Fukuoka, which netted them 364 million yen, the fourth-largest heist in Japan since World War II.
The incident took place shortly after midday on April 18 as a 29-year-old businessman, who works for a gold trading company in Tokyo, emerged from a bank with money he had just withdrawn in a black suitcase. The assailants sprayed what appeared to be tear gas in the man's face as he prepared to get into his car before fleeing in a white Honda minivan.
Authorities immediately stepped up checks throughout northern Kyushu and apprehended four South Korean nationals at Fukuoka Airport with 735 million yen (5.90 million euros) in cash in their luggage. The four men have since been charged with violating the Customs Law - which requires anyone transporting cash or valuables worth more then 1 million yen to declare the items. Authorities suspect the two cases may be connected but have been unable to prove the link.
In yet another case in Fukuoka, in July 2016, three men dressed as police officers approached three men transporting 160 kilograms of gold bars - valued at 750 million yen - in briefcases to a precious metal dealership. The men dressed as police demanded to see paperwork proving that the gold had not been illegally smuggled into Japan and, when the businessmen were distracted, put the suitcases into a waiting vehicle and made off.
Authorities made a breakthrough in the case in late May and arrested a number of individuals suspected of being involved in the heist, although officials of the Organized Crime Division of the National Police Agency declined to comment on the case.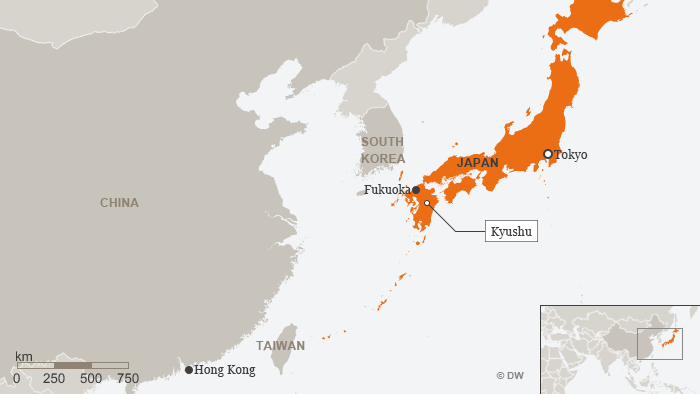 Smuggling hub
The officials also declined to discuss suggestions that Kyushu - geographically close to South Korea, mainland China, Taiwan and Hong Kong - has become the hub of Japan's growing gold smuggling industry.
Jake Adelstein, author of "Tokyo Vice: An American Reporter on the Police Beat in Japan" and an expert on Japan's underworld groups, says the sharp increase in gold robberies and smuggling attempts is a fact of economic life for the nation's "yakuza."
"Gangs across the country are desperate for new sources of income after the police began a crackdown on their more traditional sources of income around five years ago," Adelstein told DW.
"In years gone by, the 'yakuza' earned their living largely from extortion and protection rackets, but the new legislation has effectively eliminated those revenue streams," he said. "So they have been casting around for a new way of making a living, and the gangs that are dominant in southern Japan have clearly recognized the opportunities that lie in gold."
Japanese tattoo artist takes struggle against stigma to court
North Koreans in Japan sense growing hostility
Japanese banks have been "ruthlessly enforcing" regulations on accounts operated by members of organized crime groups, Adelstein said, "So gold has become a very useful currency when you cannot have a bank account, and as an added bonus it is untraceable and easy to break into smaller amounts and move around."
Attractive commodity
Domestically, gold has become an even more attractive item since the Japanese government raised the consumption tax on goods from 5 percent to 8 percent in April 2014. In comparison, the consumption tax on gold in Hong Kong is zero, so it is significantly cheaper to purchase the precious metal in Hong Kong and sell in Japan on the black market, avoiding the taxes. Demand will be further fuelled in the future as the Japanese government is committed to increasing the tax to 10 percent in the future.
Japanese customs detected just eight attempts to smuggle gold into Japan in the 12 months to June 2014, according to the Coordination Division of the Finance Ministry in Tokyo. Underlining the new-found appeal of the underground trade, that figure climbed to 177 cases the following year and had reached 294 incidents in the year to June 2016.
No figures are yet available for the present year, although the numbers of cases are expected to rise again.
Of the 294 gold smuggling cases detected in the year to June 2016, fully 135 originated in Hong Kong, 88 were from South Korean cities and 27 started in Singapore.
"The Japanese government and governments globally have been monitoring and cracking down on how funds are being transferred as part of the war on terrorism, and that has clearly had an impact on organized crime in different parts of the world," said Stephen Nagy, a senior associate professor of international relations at Tokyo's International Christian University.
"Clearly, dealing in untraceable gold is designed to bypass that intensive monitoring, but it is also an indication of just how Japan's underworld groups are struggling to survive now," he said.