Jumpei Yasuda is conflicted. Two weeks after arriving back to his native Japan after enduring 40 months of captivity at the hands of militants in Syria, Yasuda said he felt compelled to apologize for making a "silly mistake" and being captured. At the same time, he defended the important job journalists carry out in conflict zones.
Read more: Japanese media publish video from Syria with journalist's appeal
Yasuda went to Syria in June 2015 to report on the growing conflict there and how it was affecting ordinary people. However, he was kidnapped immediately after crossing the border from Turkey.
Over the following years and months he was held in at least 10 locations, including a bread factory and in private homes. During this time, foreign journalists and aid workers were being publicly executed by different factions operating in Syria.
Won't apologize for reporting
After he was released and arrived in Japan on October 25, Yasuda faced fierce criticism from some sections of the Japanese media and on social media over what commentators say are diplomatic difficulties that he caused for the nation.
There have also been suggestions that the government paid a substantial ransom to win his freedom – allegations that Tokyo has declined to comment on.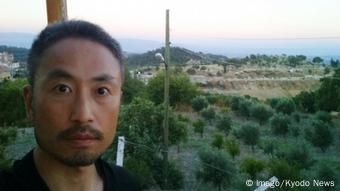 A 2015 photo of Yasuda before he went missing in Syria
Japanese commentators claimed Yasuda should have taken responsibility for his own actions and that he had invited disaster entering Syria by himself, along with being unprepared for what he might face.
Messages on social media platforms accused Yasuda of "disturbing society," causing "negative publicity" for Japan and being an "anti-citizen."
Yasuda apologized for any inconvenience that he have may have caused his family or the authorities.
But Yasuda refused to apologize for being a journalist and doing his job, particularly when conflicts in the Middle East receive scant coverage in the Japanese media and the public are largely unaware of the danger and human misery that continue to grip large parts of the region.
Read more: 'Islamic State' claims beheading of Japanese journalist Kenji Goto
"What happened to me in Syria, my capture and the time I spent detained in various places there, was the result of certain mistakes in the actions that I took," Yasuda told a group of reporters at the Foreign Correspondents' Club of Japan on Friday.
"That is what I want to apologize for. But I still believe that the job of a journalist, the responsibility of a journalist, is to provide information to the public that is not controlled by the government," he added.
Yasuda is well-known for reporting from conflict zones and it's not the first time he has been held captive in the Middle East. In 2004 he was captured in Iraq and at the time faced criticism because the Japanese government had to negotiate his release.
Read more: Is live coverage of terror more important than journalist safety?
However, during his captivity in Syria, 44-year-old Yasuda managed to smuggle a message to his wife in Japan containing the messages "do not pay" and "I will come home safely."
Six months after he was taken hostage, his captors sent his wife a message and she replied with a series of personal questions that only Yasuda would know the answers to. While stating the name of his favorite brand of "shochu" liquor, Yasuda was able to insert the Japanese characters to communicate his secret message.
Yasuda knew his 40-month ordeal was at an end on October 23 when his captors told him he was "going to Turkey now." He was reportedly taken across the border and handed over to Turkish authorities.
Support from journalists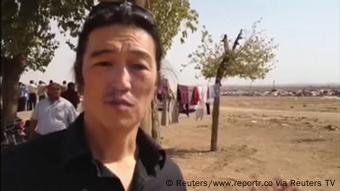 Japanese journalist Kenji Goto was killed by militants while reporting in Syria in 2015
The condemnations of Yasuda have elicited a strong response from the journalism advocacy group Reporters Without Borders.
Cedric Alvani, director of the organization's East Asia office issued a statement saying, "It is unacceptable that Jumpei Yasuda was forced to apologize for having risked his life to inform his compatriots of the Syrian tragedy; he should instead be welcomed as a hero in view of the hardships he has endured."
"Without journalists on the ground in countries at war, the public would have to rely on the information, necessarily biased, provided by belligerents and other stakeholders."
That message was echoed by Peter Langan, president of the Foreign Correspondents' Club of Japan. "Journalists are not on suicide missions," he said. "That is just not why they do what they do, whether that is going to report from a war zone or disclosing the Panama Papers," said Langan, adding that the nature of the work can put journalists in harm's way.
"Mr. Yasuda's work put him in harm's way," said Langan. "In my opinion, he needs to be commended for that work."
No hatred for Islam
Asked whether his experience had given him cause to hate Islam, Yasuda said he had been given a Koran, in English and Arabic, early in his captivity and he had been able to gain a degree of insight into Islamic thought.
"I learned that Islam is a peaceful religion and I was able to exchange a few words that I learned with my captors," Yasuda said at Friday's press conference in Tokyo. "I also learned that if the Koran is not studied well or if it is misunderstood — which is very easy — then it can have a different effect."
Read more: Reporters Without Borders: 65 journalists killed worldwide in 2017
"I don't hate Islam and I would very much like to study the religion more," he added.
He is not sure, however, if he will return to the Middle East.
"The thing that I missed the most when I was there, other than my family, was Japanese food and the ability to do anything that I wanted whenever I wanted to," he said. "That would be something as simple as making a cup of coffee the way I like it."
"And when I think about going back, it's completely blank," he said. "What I do believe is that it is very important that journalists do cover these stories on the ground. That is very important and very necessary. And it will continue to be important."
According to Reporters Without Borders, there are an estimated 60 journalists still being held in the Middle East, while 1,009 journalists were murdered around the world between 2006 and 2017.