On February 2, the Japan Tourism Agency launched the "Enjoy My Japan" global tourism campaign with a series of videos showcasing some of the nation's top tourist attractions in a variety of languages. Much of the effort is concentrated on bringing in more European visitors.
The videos ranged from traditional temples and unique cuisine to diving in Okinawa, art installations in Kagawa Prefecture, "onsen" hot springs and performances of "noh" theater.
Read more: Japan: the land of a thousand conveniences
According to the Japan National Tourism Organization, there were 28.7 million foreign visitors to Japan in 2017, a remarkable 500 percent increase on the 4.76 million arrivals as recently as the year 2000.
Of that total, however, 85 percent are from other parts of Asia - primarily China, Hong Kong, South Korea and Taiwan – and are visitors who only stay a short time, typically four or five days.
While arrivals in Japan were up more than 40 percent from South Korea and more than 21 percent from Hong Kong in 2017, visitors from Germany were up a mere 6.7 percent and 6.2 percent from the UK.
What do Europeans want?
The Japanese government has set a target for a total of 40 million visitors in 2020, when Tokyo will host the Summer Olympic Games. Tourism authorities have been tasked with reaching out to travelers from further abroad with the message that Japan has something for every tourist's taste.
"European travelers love nature and enjoy outdoor activities in their own countries, but most of them are still not aware that Japan also has opportunities to explore the great wide open," Ryoji Aso, deputy manager of the JNTO's Inbound Promotion Department, told DW.
Read more: Japan's love affair with vending machines
"We are strongly promoting local sights that are off the 'Golden Route' - the traditional path that visitors take linking Tokyo with Kyoto and Osaka - and through our web site dedicated to the European market, we are suggesting a selection of just some of the outdoor activities that are available, as well as culture experiences such as 'onsen' and regional cuisine," he said.
"We want to let people across Europe know about the outlying regions and give them good reasons to visit," Aso said.
The JNTO is focusing its efforts this year on Germany, the UK, France, Italy, Spain and Russia.
Russia alone has seen a surge of nearly 42 percent in arrivals in Japan during 2017, although primarily from Far East cities such as Vladivostock. "We are especially targeting European travelers between the ages of 20 and 40, who account for the biggest volume of tourists from Europe," Aso said.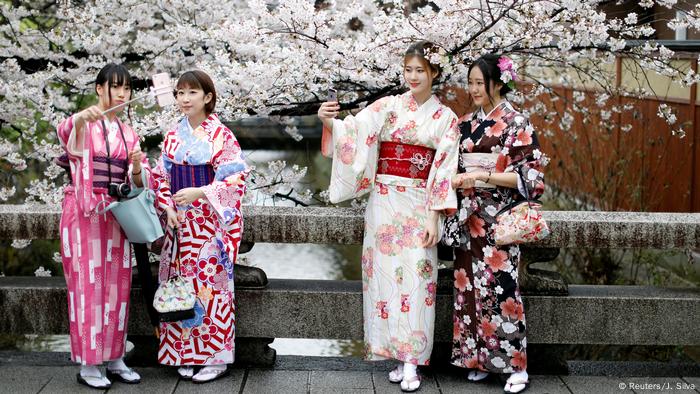 The cherry blossom festival every spring is a major tourist draw in Japan
Building boom
The new campaign will traverse a wide selection of media and include television spots, social media and an online campaign in conjunction with airlines and online travel agents. This comes shortly after the JNTO opened six new overseas offices, including in Madrid, Rome and Moscow.
Another key message that the industry is hoping to communicate to potential travelers is that Japan is nowhere near as expensive as many people still imagine it to be, Aso added.
The Olympic Games in 2020 - as well as the Rugby World Cup in the autumn of 2019 - have acted as a catalyst for the construction of new hotels across the country, including a number of high-end properties.
Marriott International Inc. is to open two of its luxury "Edition" brand properties in Tokyo before the Olympics open, with another eight across the country by 2023. InterContintental Hotels will open a spa resort in the Kyushu resort town of Beppu in 2019, while Prince Hotels Inc. has plans for no fewer than 100 budget brand hotels across the country.
Mass tourism concerns
With all the developments in the travel sector, however, there are some who are concerned at the potential impact on communities that are not used to mass tourism. They warn that must-see destinations such as Kyoto are at risk of suffering an overload of visitors, in much the same way that cities such as Barcelona, Bangkok and Venice have struggled with arrivals that outstrip the local ability to cater to their needs.
Public transport is increasingly crowded in the most popular destinations and hotel rooms are becoming harder to find, particularly at the busiest times of the year, such as cherry blossom season in the spring.
People staying in private rental accommodation, known as "minpaku," are also falling foul of neighborhood regulations on noise at night and not adhering to rules about meticulously sorting household rubbish.
In addition, foreigners' norms do not always mesh with local customs. Individually, the problems may appear relatively small and not a reason to get overly agitated, but there are clear rumblings of discontent.
Last year, an article in the Asahi newspaper claimed that "endless crowds, unknown neighbors and unruly behavior" have damaged the quality of life for residents of Kyoto.
A record 56.84 million tourists - both Japanese and foreign - visited the city in 2015, but one resident told the paper that the ancient capital is now suffering "pollution by tourism."