They're all over Japan; glowing beacons of light that dot the crowded streets of Tokyo and even the vast expanses of countryside. There are even some on top of Mount Fuji to greet weary hikers after their long climb. The vending machine has become an integral part of Japan's convenience culture.
According to the Japan Vending Machine Manufacturer's Association, there were about 3,648,600 vending machines across the country at the end of 2016, or one vending machine for every 35 Japanese residents. Including money changers, coin lockers and other rental machines, the number becomes one machine for every 25.7 residents. That is the highest rate of vending machines per capita in the world.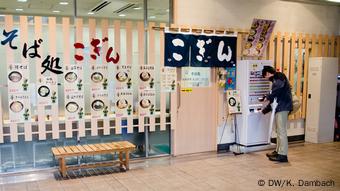 Vending machines are an integral part of Japanese culture, which values convenience
Vending machines in Japan are used for more than just dispensing snacks and beverages. There are thousands of vending machines that provide tickets to local attractions. Small restaurants sometimes have vending machines that allow customers to purchase what they want to eat, and they receive a ticket with their order that they hand directly to the chef.
Reflection of the culture
The fact that there are so many vending machines in Japan is a testament to Japanese culture and how the country developed. The country places a massive precedence on convenience, particularly in the busy streets of Tokyo. With the packed streets and intense work schedules, a quick purchase is always appreciated.
Japan is a cash-based economy, and the machines are always ready to take coins and 1,000 yen bills (worth around 7 euros or $9.00).
And if a customer does not have coins or bills, they can also pay at many machines by scanning their public transportation pass, which deducts the value of the item from the remaining balance on the pass.
Read more:
Japan's 'love hotels' - places where anything goes
Japan opens first drive-through funeral service
The low crime rate in Japan also allows for vending machines to flourish.Low levels of vandalism and destruction of property throughout the country allow for machines to operate in many areas with little worry. The machines just need occasional tune-ups and they are perfectly operable.
Sign of the times
Vending machines are an example of how Japan is automating for the future. Japan is embracing the automation of common jobs like cashiers. In some stores, customers are no longer greeted by people, but by robots.
Although vending machines may not greet potential customers like robots do, the machines are still able to take the place of a store clerk at much lower costs than human labor, and they never get tired.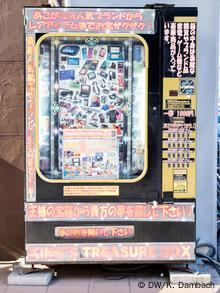 Japanese vending machines sell everything from electronics to water
And as the country increasingly ages, and as the Japanese population is expected to halve by the end of the century, there will be fewer people to work in places like convenience stores.
A strange assortment
While most Japanese vending machines are filled with common items such as soft drinks or snacks, some of them contain interesting or downright strange items.
In Tokyo, there are vending machines that sell beer, two-liter bottles of milk, as well as honey and fresh fruit.
There are vending machines across Japan that offer a random electronic item in an unmarked white box after you put in a 1,000 yen bill (they only accept these bills, nothing else). The box could contain anything from a handheld cleaner to a handheld video game device.
And there is a vending machine in Awa city in Tokushima prefecture that is packed with curry and rice meals freshly prepared by a local farmer.
Things can also get a little odd. At least two vending machines in Tokyo contain boxes wrapped in paper that have disturbing stories written on them.