DW: The murder of journalist Jan Kuciak and his fiancee Martina Kusnirova has shocked the citizens of Slovakia and cast the country into political turmoil. Many observers see the murder as a breaking point, possibly even a turning point for politics in Slovakia.
Grigorij Meseznikov: The murder was a great tragedy and indeed an event that could change the course of history in the country. The people are outraged. They are outraged that the government is incapable of protecting people with critical viewpoints and that the work of independent investigative journalists has had no affect on the work being done by the administration.
Read more: Slovakia shaken to the core after 'mafia structures' revealed
Jan Kuciak spent years writing articles containing explosive information, yet nothing changed in politics. He even approached the police for protection after receiving serious threats after one such article was published, yet the police simply ignored his pleas. Civil society is now putting pressure on the administration, demanding that it make changes. I am skeptical about the chances of something actually happening to that end. Nevertheless, the situation in the country absolutely has to change.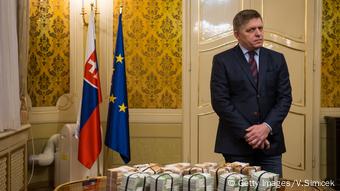 Fico has announced a €1-million ($1.2-million) reward for information leading to the killers' capture
Among the utterly surreal scenes that played out after the murder, Prime Minister Robert Fico held a press conference in which he stood next to a small table with €1 million ($1.2 million) in cash on it.
He said the money would be given as a reward to anyone offering credible information about the killings. What did you think when you saw that?
I truly believe the murder shocked the prime minister and his administration. And I think they sought a spectacular way to show they were serious about quickly and efficiently solving the crime. But the gesture itself was ultimately cynical and actually follows the logic of the mafia to the letter. It is a logic that says money can buy anything — political influence, material gain, witnesses. That is not the logic a democratic government should ascribe to.
In addressing the nation last Sunday, President Andrej Kiska said the people's tremendous mistrust of government was justified.
The police and the administration are under great pressure at the moment. Tens of thousands of people across Slovakia have taken to the streets in protest. The people are paying very close attention to just what the government is doing and what is happening. Because one thing has become crystal clear to them: organized crime groups are attempting to gain influence at the highest levels of government. So far, the administration has failed to provide adequate answers to the people's concerns. This is not just about consequences for individual politicians and administrators; this is about changing the entire political system. Namely, how the government intends to rid itself of systemic corruption. That system not only violates democratic norms, it kills people.
Do you agree with observers who say it's folly to believe that Slovakia is truly a country of laws?
The situation is complicated. It would be wrong to claim that Slovakia is entirely lawless, that its democracy is being repressed or that its judiciary is utterly inefficient. We do have problems with selective justice. On the whole, our justice system is independent. But there is a nagging 5 percent of important cases having to do with politics, parties and business interests in which the authorities and the justice system do not operate independently. Oftentimes, such cases result in investigations being shut down, or state prosecutors shelving the case — or if the case does go to court, a judge rules in favor of the accused and not according to juridical norms.
Fico is clinging to power. He has accused the president of trying to organize a coup against his elected parliamentary majority and of being controlled by US-billionaire philanthropist George Soros.
Yes, the things he says are absolutely scandalous and they also highlight his tenuous relationship with reality. It is scandalous because he calls himself a Social Democrat and because his party is a member of the Alliance of Socialists and Democrats in the European Parliament. Fico knows that a certain percentage of Slovaks believe in conspiracy theories, and he takes advantage of that fact to mobilize them politically.
That said, with such statements he is also implying that all of the people protesting in the streets right now are Soros puppets, too. That could have fatal consequences for him politically, because those people are very angry. Ultimately, it would be better if Fico would retire from politics. But he has shown no inclination to step down, and thus, he is making the crisis in Slovakia worse by the day.
Read more: Kuciak's murder sparks EU reactions
Do you think the political elite in Slovakia is capable of reforming itself, of truly anchoring the rule of law, transparency and democracy in Slovakia's political system?
That is a very difficult question. Personally, I think it's rather unlikely. Fico's party is currently losing popularity, yet he continues to cling to power. After the initial shock of the murder he quickly began to play his political power games again. That is not a good omen for the future of the country.
Grigorij Meseznikov is one of the most well-known political scientists in Slovakia. He heads the Institute for Public Affairs (IVO) in Bratislava, a think tank which aims to promote democracy and citizen involvement in the political and public affairs of Slovakia.
Every evening at 1830 UTC, DW editors send out a selection of the day's hard news and quality feature journalism. You can sign up to receive it directly here.