Usually people don't pay much mind to the commemorative plate on the wall of a hospital in downtown Bratislava. It's a reminder of the anti-Communist protests that took place in November of 1989.
But now there are hundreds of candles in the square, which has turned into a memorial for Jan Kuciak and his fiancee Martina Kusnirova, who were killed 10 days ago. These days, many people stop by — young couples, families with children, retirees. Many lay down flowers or contribute to the growing sea of candles.
The murder of investigative journalist Kuciak, 27, and his fiancee has shaken Slovakia to the core like few other events since the country's independence in 1993. The young couple, who planned to get married in May, was murdered in the house where they lived east of Bratislava. The reason was probably research Kuciak was doing to prove that Italian mafia members had direct access to the Slovak governmentand to national secrets through two of Prime Minister Robert Fico's most important advisers.
Read also: 65 journalists killed worldwide in 2017, says Reporters Without Borders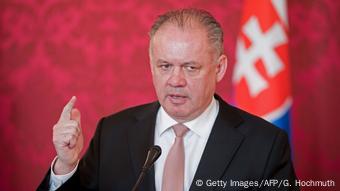 Slovakia's president, Andrej Kiska, believes something is deeply wrong in his country
Serious identity crisis
Slovakia's people are appalled by the monstrous crime. They are reminded of the chaotic situation Slovakia was in during the 1990s, when their country was reigned by autocrat Vladimir Meciar. Politics and organized crime went hand-in-hand back then, and for years, Slovakia was at a crossroads between becoming an autocratic mafia state and turning into a democracy governed by the rule of law.
Before the murder of Kuciak and his fiancee, many people in Slovakia believed that question had been decided for good when the country joined the EU in 2004. But now, hardly anyone seems sure what kind of country Slovakia really is.
Slovak President Andrej Kiska — entrepreneur, philanthropist and the nation's good conscience — put this identity crisis into words in a speech to his people on Sunday.
"There's a huge public distrust of the state," Kiska said in a televised speech. "And many don't trust law enforcement authorities. This distrust is justified. Many believe that this tragedy in many aspects reflects the Slovak reality. That's a terrible representation of our state after 25 years of existence. Something bad lurks beneath the surface, something bad has seeped into the very foundation of our nation."
Read also: Kuciak's brutal murder sparks EU reactions
Like a bad mafia movie
The people working in the newsrooms of Slovakia's independent media know exactly what Kiska is talking about. They are researching stories similar to the one Kuciak was working on and are keeping a close eye on those in government.
One of them is Peter Habara, 28. He knows the behavior of those in power in Slovakia and has frequently experienced in person how Prime Minister Fico rained down insults like "hyenas," "idiots" or "anti-Slovak prostitutes" on journalists.
Habara works at online news portal aktuality.sk, where Kuciak was employed as well. The two young men were friends and did research together. One of their projects was going through the Panama Papers and finding connections to Slovakia.
Read also: 2017 a grim year for free speech and media freedom
He's still shocked about the death of his colleague — and about the way the government is dealing with solving the case. Last week, Fico presented 1 million euros in cash at a press conference, throwing big bundles of euro notes onto a table and promising the money as a reward to anyone who had a lead pointing to Kuciak's murderers. Habara said the scene felt like something out of a bad mafia movie to him.
"Fico really seems to believe he can solve this murder with money, just like mafia guys take care of their business," the journalist said.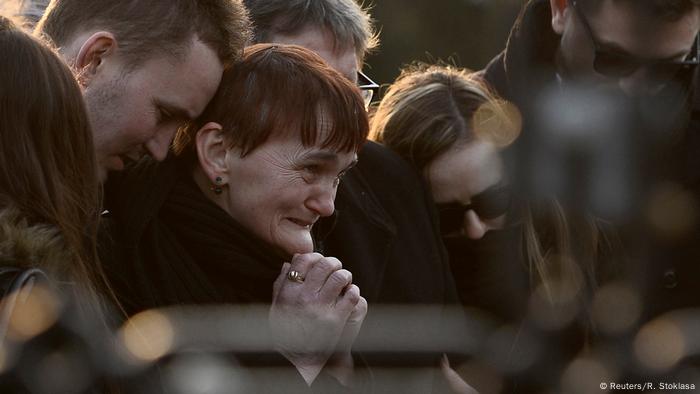 Kuciak's funeral was held on March 3 after a week filled with protest marches and vigils
Nothing more than empty rhetoric
The leftist-nationalist Fico, who is a Social Democrat in name only, has been Slovakia's head of government for more than a decade. Since 2016, he's toned down his populist and anti-Muslim rhetoric and has repeatedly stressed that Slovakia was part of the core of Europe.
"That was mostly words; Fico has done precious little for actually strengthening Slovakia's European ties," said Peter Morvay, 48, foreign policy commentator with daily newspaper Dennik N and one of the most established experts on Central and Eastern Europe in his country.
Fico has been good at playing both sides, Morvay says, presenting a moderate front to the outside but using populist rhetoric domestically. But now, appearances like the one with the cash bundles show that Fico is losing his sense of the public mood, according to Morvay.
"He seems like he doesn't have the situation under control anymore," the analyst said. "With that, he's only driving Slovakia deeper into a serious crisis."
The prospect of new elections
Hardly anyone dares to predict what a way out of this crisis could look like. In his speech on Sunday, President Kiska called for a total restructuring of the government or even moving up the election.
Fico immediately rejected that appeal, saying the president's speech had "obviously not been written in Slovakia," but by "people who are working toward completely different goals."
Former investigative journalist and political commentator Arpad Soltesz is appalled at the prime minister's statements. He believes Fico has lost touch with reality.
Unfortunately, Soltesz says, there's currently no acceptable political alternative in Slovakia. The established governing and opposition parties have been discredited, which only leaves right-wing extremists and populists, according to the analyst.
Soltesz is one of the most well-known journalists in his country and a veteran of investigative journalism. In the 1990s, while researching a fraudulent privatization of one of the former Communist state-owned companies, he was beaten so badly he had to go to the hospital. His assault got a lot of attention — but was never solved.
He knew Jan Kuciak well. For a while, the two journalists worked in the same newsroom. Before the murder, Soltesz defended the position that the rule of law was relatively strong in Slovakia in many interviews and opinion pieces. A few months ago, when President Kiska publicly posed the question of whether there were mafia structures in Slovakia, Soltesz harshly criticized him in one of his editorials.
Now he admits: "I was wrong."