Italy's parliament late Tuesday backed legislation that aims to curb fascist propaganda, more than 70 years after the death of fascist dictator Benito Mussolini.
The draft law threatens to outlaw the stiff-armed Roman salute and the distribution of fascist or Nazi symbols and propaganda, including on the internet, with proposed prison sentences ranging from six months to nearly three years.
Read more: German-speaking Italy and the legacy of fascism
The legislation is set to head to the Senate. However, it is unlikely that the upper house will vote on the draft law due to a busy legislative agenda before the legislature is dissolved in 2018.
Populists fight back
The legislation has met resistance from ex-premier Silvio Berlusconi's center-right Forza Italia (Forward Italy) party and the populist Five Star Movement (M5S).
M5S said the anti-fascist legislation threatened freedom of speech in Italy, adding that it would have been better to tighten existing laws which center around re-founding the Fascist party.
Read more: Italy's extreme right on the rise
But Emanuele Fiano, a lawmaker with the ruling Democratic Party (PD), dismissed the criticism, saying draft law will quash unbridled hate speech and rising racism.
"This bill does not attack personal freedoms, but will act as a brake on neo-fascist regurgitation and a return of extreme right-wing ideology," said Fiano.
'March of patriots'
Over the past four years, Italy has witnessed a resurgence of far-right activity, including growing support for the neo-fascist party Forza Nuova (New Force), in tandem with a wave of migrants reaching Italian shores from North Africa.
Forza Nuova has called for a "march of patriots" in Rome to coincide with the 95th anniversary of armed fascist militias entering the capital that led the government to resign and instate Mussolini as premier.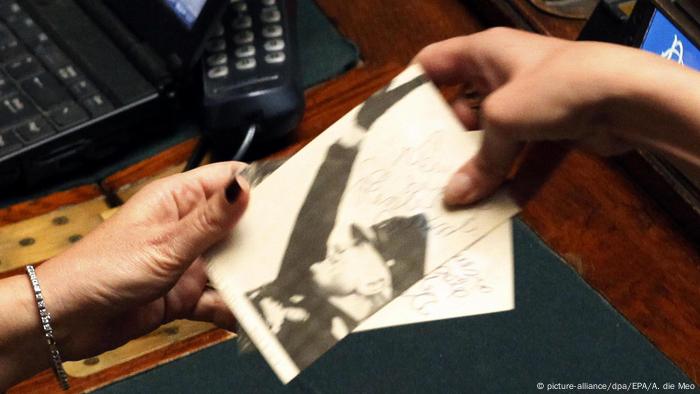 Alessandra Mussolini, the grand-daughter of the late dictator Benito Mussolini, has signed photographs of her grandfather and handed them out to neo-fascist supporters
Read more: Italian politics in search of the father figure
Many Italian citizens are "dismayed" by the rally celebrating Mussolini gaining power, with Carlo Smuraglia, who heads the Italian partisans' association, ANPI, calling for the interior ministry to ban the march.
"The idea that a neo-fascist party can organize such an event on the anniversary of a tragic event – the march that started the fascist regime – is very serious and unacceptable," said Smuraglia.
Mussolini led Italy into World War II as an ally of Nazi Germany. He was later deposed during the allied invasion of Italy in 1943 and executed in 1945.
ls/kms (Reuters, dpa)