The Renzvillo crime family tried to extort money from Italian restaurant owners, including the owner of the upscale Rome cafe Via Veneto, Italian police said on Wednesday.
The man was forced to pay €180,000 ($212,000) after receiving "unambiguous" threats over fruit and vegetable deliveries.
At the same time, the Sicily-based clan was attempting to force its way into the fish business in Rome, Milan, and parts of Germany, using legitimate companies as fronts. The Renzvillo syndicate was also making alliances with other Italian crime groups, including the 'ndrangheta and Camorra.
Read more: Italian police strike at 'beating heart' of 'ndrangheta mafia
Carabinieri arrested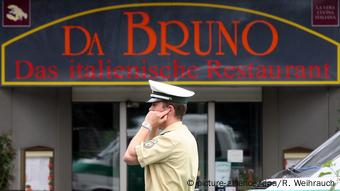 Six people were killed in a 2007 mafia showdown in "Da Bruno," Duisburg
Some 600 officers were involved in the latest bust, officials said on Wednesday. Police in Germany and Italy seized around €11 million in real estate and goods and arrested 37 people, including two members of the national military police force, the Carabinieri.
Two of the mobsters were detained in Germany and accused with involvement in drug trade, German prosecutors said. According to the authorities, the head of the Renzvillo clan, Salvatore Renzvillo, used a representative to establish crime cells in Karlsruhe and Cologne, and sent out a relative to boost drug trade in Germany.
Read more: Italian mafia boss arrested in Uruguay
The family also contacted Antonio Strangio, former manager of the now renamed "Da Bruno" restaurant in Duisburg, where a mafia showdown claimed six lives in 2007.
dj/msh (AP, KNA, dpa)