Israel on Monday suspended a deal with the United Nations to send some 16,000 African asylum seekers to Western countries, mere hours after it had announced the agreement.
The deal with the UN's refugee agency (UNHCR) would have seen at least 16,250 of 37,000 migrants relocated to "Western countries" later identified as Germany, Canada and Italy. The remaining migrants would have been allowed to stay for up to five years.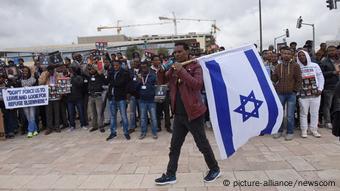 African asylum seekers have long protested Israel's plans to deport them
But Netanyahu wrote in a message on his Facebook page on Monday evening that he would freeze the deal until further review, adding that his decision was in response to the agreement's critics.
Division and confusion
The deal's announcement immediately sparked condemnation on social and mainstream media, with some critics accusing Netanyahu of caving into left-wing demands.
Several right-wing ministers in Netanyahu's Cabinet also said they opposed the accord, adding that Netanyahu's office had not told them about it before the agreement was announced.
Germany and Italy had also cast doubt on the deal after they separately said they were not aware of any relocation agreement.
Netanyahu's office said the accord would replace a separate heavily criticized plan to deport the migrants to an unnamed African country.
Dilemma
The country founded as a haven for Jews fleeing persecution and conflict has faced the moral dilemma of dealing with the migrants, mostly from Eritrea and Sudan, whom it says entered the country irregularly.
The issue has pitted right-wing nationalists, who argue that the presence of Christian and Muslim immigrants are a threat to the country's identity as a Jewish state, against progressives and Holocaust survivors who say Israel's history means it ought to take in refugees fleeing conflict and starvation.
Netanyahu, for his part, has referred to the asylum seekers as "illegal infiltrators."
Protests
In February, about 20,000 male migrants were handed notices that said they had two months or leave the country or risk facing prison time.
In a move sharply criticized by the UN, some of them were offered incentives of $3,500 (€2,800) and a plane ticket to an undisclosed "safe country," which, according to Israeli media, was Rwanda.
The plan sparked protests in Tel Aviv, where thousands of African refugees have settled in a cluster of neighborhoods known as "Little Africa."
amp, es/se (AP, AFP, dpa, Reuters)