Israel's government on Tuesday said it would suspend a controversial tax and expropriation bill that Christian leaders in Jerusalem had earlier described as a "systematic and unprecedented attack against Christians in the Holy Land."
The Greek Orthodox, Armenian and Roman Catholic churches closed the Church of the Holy Sepulchre on Sunday in protest against the Jerusalem municipality's tax and land right plans. However, Christian leaders reversed their decision on Tuesday following the Israeli government's decision to suspend the measures.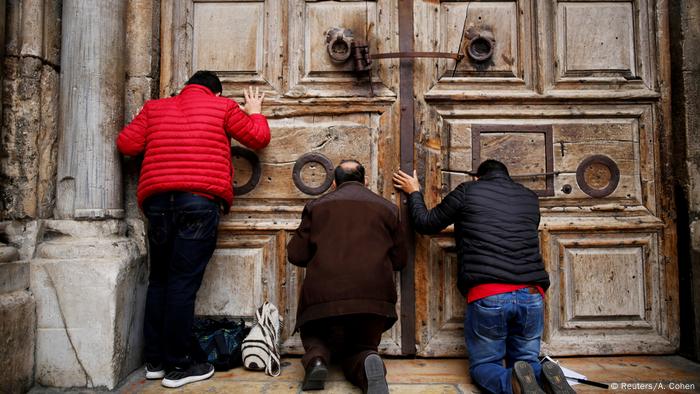 The Church of the Holy Sepulchre has been closed since Sunday in protest.
Suspension of tax collections
Prime Minister Benjamin Netanyahu's office said it would:
Suspend tax collection on Church properties.
Suspend a proposed bill covering the sale and expropriation of church lands.
Assemble a team to negotiate with Church leaders.
Read more: Three things to know about Jerusalem
Church leaders have described Israeli plans as "an attempt to weaken the Christian presence in Jerusalem."
Jerusalem's original plans: Jerusalem's Municipality wanted to tax church "commercial" properties, saying that churches have uncollected tax debts of roughly €151 million ($185 million). The tax plan would not affect places of worship.
A separate piece of legislation in parliament sought to allow the Israeli government to expropriate land the Church sold to private land developers. The land bill, according to its drafters, is designed to protect homeowners from not having their leases extended.
Church shutdown: In protest, Church leaders of all denominations had closed the Church of the Holy Sepulchre on Sunday. Church leaders said Israel was trying to upset the status quo running back to the Ottoman Empire, and later the British Mandate in Palestine.
The Churches are major landowners in Jerusalem. They said both the tax and land rights changes would make it more difficult to fund operations.
Palestinian concerns: Palestinians are concerned the land purchases are designed to expand Israeli settlement construction in East Jerusalem, which they claim as the capital of a future state.
What is the Church of the Holy Sepulchre? The Church of the Holy Sepulchre is one of the holiest places in Christianity. It is where Christians believe Jesus was crucified and resurrected.
The Church is located in the Israeli-annexed East Jerusalem. Christians from around the world make pilgrimages to the Church, which is run by several denominations.
cw/aw (AFP, AP, Reuters)
Each evening at 1830 UTC, DW's editors send out a selection of the day's hard news and quality feature journalism. You can sign up to receive it directly here.