"Islamic State" (IS) posted an audio message online on Thursday, claiming responsibility for the attack on Tunisia's National Bardo Museum.
"Two knights from the Islamic State... heavily armed with automatic weapons and grenades, targeted the Bardo Museum," the message said. The group threatened more attacks, saying: "What you have seen is the first drop of the rain."
The statement said the two attackers were shot dead by security forces only because they had run out of ammunition.
IS, based in Syria and Iraq, has affiliates in neighboring Libya, where many Tunisians have joined extremist groups. A prominent Tunisian field commander fighting with IS was kiilled in Syria earlier this week.
Nine arrests made
On Thursday, Tunisia's government announced that police had made the first arrests after the attack, which killed at least 20 people.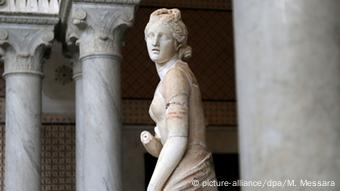 The Bardo houses a rich variety of archaeological artefacts, some of them from the ancient city of Carthage
"The security forces were able to arrest four people directly linked to the operation and five suspected of having ties to the cell," the president's office announced in a statement quoted by the AFP news agency.
Tunisian Prime Minister Habib Essid said investigators had identified the two gunmen killed by security forces.
Speaking to France's RTL radio, Essid named the gunmen as Yassine Abidi and Hatem Khachnaoui and said that Abidi had been known to police. However, "for the moment we cannot say if they belong to one or another terrorist organizations," he said, without providing further information. Separately, a spokesman for the country's interior ministry said the museum attackers were "probably" Tunisian nationals.
Multiple nations in mourning
News agencies have given conflicting figures on the number of dead, which ranges between 20 and 25.
Most of those killed appeared to have been European tourists, with an official at the hospital where many victims were taken saying they had confirmed the identities of Spanish, British, Belgian and French nationals. Also among those identified were victims from Japan, Australia and Colombia.
There was some good news, with the discovery in the morning of two Spanish tourists who survived the attack after hiding from the gunmen and spending the entire night in the museum.
Threat to tourist industry
The attack has sparked outrage in Tunisia, with an overnight rally against terrorism and President Beji Caid Essebsi promising to "wipe out" those involved.
The attack is expected to have a significant negative impact on Tunisia's lucrative tourist industry, and the first signs of this also came on Thursday, with Costa Cruises and MSC Cruises, whose passengers were among those killed, announcing that their ships would no longer stop in Tunis.
The Bardo museum is one of Tunis' main tourist attractions, housing a rich collection of archaeological finds, including remains from the ancient city of Carthage. The museum also shares an entrance with Tunisia's Parliament, which had been in session at the time of the attack before lawmakers were evacuated.
rc/lw (AFP, dpa, AP, Reuters)