DW: What's the atmosphere like in the capital after yesterday's attack?
Ralf Erbel: I did not witness any reactions of panic or chaos. The Tunisians reacted in a calm manner, kept their countenance, yet the atmosphere is depressed. There's a general feeling of desperation, regarding both the impact of yesterday's terrorist attack on Tunisia's future political prospects, its stability, but also its economy: Tourism is a vital economic sector, and any attack on tourism is likely to have a major impact on the economic performance of Tunisia in the short term. Many Tunisians are also expressing a sense of embarrassment, that foreign visitors were targeted - people who came in appreciation of the country's rich cultural heritage. Tunisians are very hospitable people and they have been used to terrorists targeting their own security forces, but the fact that foreigners were targeted this time is a new development. Tunisians are extremely upset about what happened yesterday in the heart of their capital, and we are starting to see this anger translating into public displays of defiance. Thousands of people are spontaneously demonstrating in rejection of extremism, and there has been a campaign to encourage Tunisians to visit the targeted museum in a symbolic display of resistance against terror.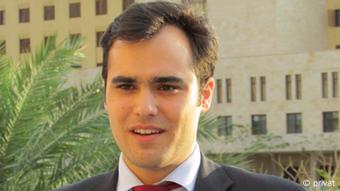 Ralf Erbel fears that the attack could endanger the democratic freedoms recently secured in Tunisia
President Beji Caid Essebsi has pledged to catch the perpetrators. He said last night that the country was in "a state of war against terrorism." Are there any further indicators as to who was behind the attack?
So far there's only speculation. There has recently been a cynical rivalry between "IS" and the al Qaeda in the Maghreb groups for dominance within the extremist camp; so it could have been either of them. But given the witness accounts of the somewhat amateurish execution of yesterday's attack, the perpetrators might also turn out to be unaffiliated young local men who turn out to have been inspired by similar acts elsewhere.
What I find much more relevant than the exact identity of the perpetrators is the context in which this attack happened, Tunisia has a tradition of moderation; that said, it also has a huge problem of extremism on the fringes of society.
This country has a population of 11 million people, but it has the largest - or the second-largest - group of militants that have joined the IS in Syria and Iraq, 3,000 young men have are said to have joined these terrorist groups. Also, there are said to be 7,000 or 8,000 names of young men that have been shared with police at the airports and land borders of Tunisia. Those young men are prevented from leaving Tunisia on the assumption that they are likely to join the extremist groups operating in neighboring Libya or the Middle East. So Tunisia does have an extremist problem, irrespective of who turns out to be the perpetrator of this attack.
Why might it be that many Tunisians are leaving, for example to join and fight with the "Islamic State?" Is there a reason for the disenfranchisement of a certain group of the population?
I also find that very difficult to understand. I have received bits and pieces of what is likely to be the motivation for these young men to join the extremist groups abroad. None of them have really provided a string of convincing answers; they all provide partial answers to a bigger phenomenon. My understanding is that, of course, there is a socio-economic aspect: Tunisia has a very high level of youth unemployment, it has many young men, especially in the periphery of the country outside the big coastal population centers, who have very little perspective for an economic livelihood. There are also very few opportunities outside Tunisia. Immigration to Europe is strictly limited for unskilled labor from Tunisia, and in the Arab oil-rich countries, very often the English language is a requirement and Tunisians are traditionally francophone. So there is a problem of unemployment, but I think it goes beyond that.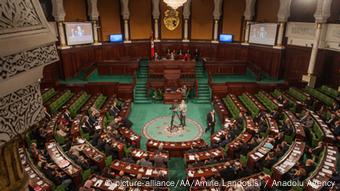 Tunisia's new government convened in the aftermath of the attack that took place near the parliamentary compound
Tunisia's post-independence experience under President Habib Bourguiba [editor's note: in office from 1959 to 1987] was one of staunch modernism. The country was modernized; women's rights were advanced impressively. Yet at the same time, there might have been another Tunisia - a Tunisia that is more traditional - that perhaps felt it was neglected during the nation's development, in the new identity the country was acquiring. But all of these are partial answers to a bigger phenomenon.
Tunisia is often hailed as the success story of the Arab Spring. The country that made the largest strides towards democracy and with relatively low levels of the violence we've seen in places like Egypt, or Libya to the south. Do you see yesterday's attack as having any effect on this process - negative or positive?
First of all, Tunisia has been the only remaining hope of the Arab Spring. Its transition to democracy has been a success story, especially the drafting of its new, progressive constitution, the holding of free and fair parliamentary and presidential elections, and ultimately the formation - just last month - of its new government.
That said, the amount of praise might have been exaggerated due to our own wishful thinking, due to our own wish to have a success story within the Arab Spring countries. The attack yesterday, that massacre, threatens the economic development of Tunisia, and therefore might actually nurture the climate of economic decline that is fuelling extremism. But it might also convince Tunisians, or lead Tunisians to accept limitations on political freedoms that they have fought very hard to acquire. And that's definitely a danger or a worry among human rights activists in this country. But hope remains, not least due to Tunisia's vibrant civil society, its educated middle class and its history of moderation and openness.
Ralf Erbel, based in Tunis, is the project leader for Tunisia and Libya for the Friedrich Naumann Foundation for Freedom.