In a statement to national television on Wednesday, the Tunisian president said the attack outside the National Bardo Museum showed the country was involved in a war with terrorism. He promised that the attackers would not be victorious.
"I pass this message to Tunisians, that democracy will win and it will survive," said Essebsi (pictured above). "We will find more ways and equipment for the army to wipe out these barbarous groups for good."
"I want the Tunisian people to understand that we are in a war against terrorism and that these savage minorities do not frighten us," said Essebsi, who visited some of the dozens being treated for wounds in a Tunis hospital. "We will fight them without mercy to our last breath."
"These savage minority groups will not frighten us and the fight against them will continue until they are exterminated."
The gunmen stormed the museum on Wednesday, killing at least 19 people, 17 of whom were tourists, with at least 42 others injured.
Security forces killed two gunmen and were hunting for possible accomplices, Tunisian Prime Minister Habib Essid said. At least two, possibly three, men were being sought.
German Foreign Minister Frank-Walter Steinmeier said he was unable to confirm that at least one of the dead was German, but said the German embassy was working with Tunis to clarify the situation.
"It was a cowardly attack on all of us and a heinous violation of all the values of humanity," said Steinmeier.

Multiple nations affected
Spanish Foreign Minister Jose Manuel Garcia-Margallo said two Spanish citizens had been killed in the attack. He said the victims had disembarked from two cruise ships to visit the Tunisian capital.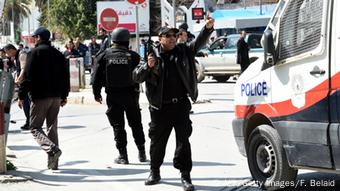 Security forces killed two of the gunmen, with two more possibly on the run
Polish parliamentary speaker Radoslaw Sikorski said it was "very likely seven Polish people were killed." Polish President Bronislaw Komorowski said the country was "shocked and worried."
Colombian President Juan Manuel Santos confirmed that two citizens of his country had died in the attack. Italians are also thought to have been among the fatalities.
UN Secretary General Ban Ki-moon condemned the "deplorable" attack "in the strongest terms," his deputy spokesman Farhan Haq said.
'Islamic State' or al Qaeda responsible?
While Tunisia has proved more stable than other countries in the region, such as its eastern neighbor Libya, it has struggled with violence from Islamist extremists who have sworn allegiance to both al Qaeda and "Islamic State" (IS).
The Bardo museum is one of Tunis' main tourist attractions, housing a rich collection of archaeological finds, including remains from the ancient city of Carthage. The museum also shares an entrance with Tunisia's Parliament, which had been in session at the time of the attack before lawmakers were evacuated.
rc/bk (AFP, AP, dpa, Reuters)