IS abducted 90 Christians, the Britain-based Syrian Observatory for Human Rights reported Tuesday. According to the Observatory, the abductions took place in dawn raids on villages inhabited by an ancient Assyrian Christian minority, near the town of Tel Tmar, in the western countryside close to Hasaka, a city mainly held by Kurds. Assyrian Christians make up about 5 percent of the country's population.
The attack follows a report on Monday, in which the Observatory cited "reliable sources" who said IS had kidnapped 56 Assyrians in the village of Tal Shamiram. "The sources confirmed that they heard via wireless devices IS members saying that they detained '56 crusaders'," the Observatory had reported.
"IS executed two citizens for 'dealing with Kurds' in the village of Ghibsh," according to the Observatory. The group also destroyed several churches during the attack, including some of the oldest in the region, which is home to about 35 Assyrian Christian villages.
Then known as the Islamic State in Iraq and Syria, the group seized vast swaths of the countries during a lightning offensive last summer en route to declaring a transnational caliphate. IS uses gory execution videos to intimidate regional and international opponents. The latest IS offensive coincides with a push by Kurds that began Sunday in the northeast, near the Iraqi border, and has compounded losses for the group in Syria.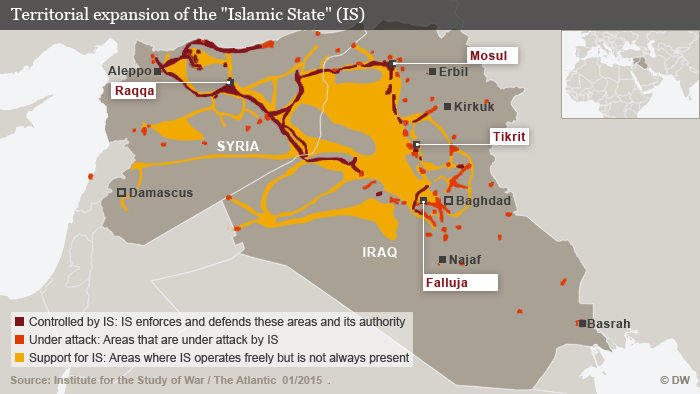 Genocide feared
Earlier in February, an Egyptian cell that has pledged its allegiance to IS killed 21 Christians on a beach in neighboring Libya. Experts warn that the group could take advantage of long-term instability to establish itself in the area. Egypt immediately launched airstrikes across the border to avenge the killings.
The United Nations has warned that IS could be looking to launch a genocide of Syrians, non-Sunni Muslims, Yazidis, Kurds and members of other groups not allied with the militia. Several people have fled the region.
Since late summer, an international coalition has conducted airstrikes against IS bases in Iraq and Syria, killing more than 1,600 people, about 1,465 of them members of IS, according to the Observatory.
mkg/rc (Reuters, AFP, dpa, kna)