The photo of the soda can, along with a detonator and switch was published in "Islamic State's" (IS) official propaganda magazine on Wednesday. DW is unable to verify the photo independently.
The jihadist network claims the three simple components helped to blow up a Russian passenger jet in mid-air over Egypt's Sinai Peninsula last month.
The crash of the Metrojet plane killed all 224 people on board, mostly Russian tourists, returning from the Sharm el-Sheikh resort on Egypt's Red Sea.
In reference to Russia and the West, the magazine said: "The divided Crusaders of the East and West thought themselves safe in their jets as they cowardly bombarded the Muslims of the Caliphate. And so revenge was exacted upon those who felt safe in the cockpits."
Spotlight on Egyptian security
Islamic State's Egyptian branch, Sinai Province, claimed responsibility for the attack on the day it happened. The group claimed it exploited a security loophole at Sharm el-Sheikh airport to smuggle a bomb on board, which Egypt has denied.
Within days of the crash, several Western governments claimed the plane was likely brought down by a bomb. On Tuesday,. Moscow confirmed it had reached the same conclusion, but the Egyptian government still maintains it has still not found evidence of criminal action.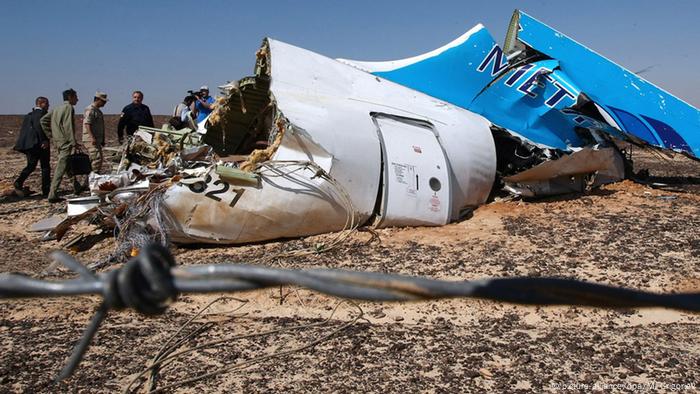 The Metrojet jetliner crashed in the Sinai Peninsula on October 31 killing all onboard
Some analysts believe IS originally planned to bring down a Western airliner but picked a Russian jet after Moscow launched its airstrikes on the militant group's positions in Syria. The propaganda magazine described the Kremlin's decision as "thoughtless."
"This was to show the Russians and whoever allies with them that they will have no safety in the lands and airspace of the Muslims," the group wrote. "That their daily killing of dozens in (Syria) through their air strikes will only bring them calamities."
On Tuesday, Russian President Vladimir Putin offered a 47 million euro ($50 million) reward for information leading to those responsible for the jet's downing.
Latest IS hostages killed
Also on Wednesday, IS announced two new executions in the same propaganda magazine.
The killings of a 48-year-old Norwegian man and a 50-year-old Chinese man happened two months after the militants demanded a ransom for the hostages' release.
A page appeared to show the bodies of the two captives, with the caption "executed after being abandoned by kafir nations and organizations." ''Kafir" means infidel in Arabic.
IS did not report where it had captured the men. The group controls large areas in Iraq and Syria. Since seizing the territory in 2014, IS has claimed the executions of hundreds of people, the vast majority of them Iraqi or Syrian.
mm/jil (AP, dpa, Reuters)