The so-called "Islamic State" (IS) destroyed Mosul's Grand al-Nuri mosque and its iconic leaning minaret late Wednesday, according to Iraq's Ministry of Defense.
"The Daesh (IS) terror gangs committed another historical crime by blowing up the al-Nuri mosque and its historical al-Hadba minaret," the Iraqi military statement said.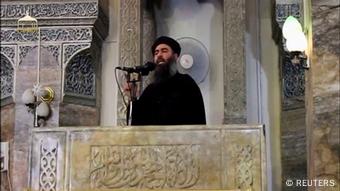 Reclusive IS leader Abu Bakr al-Baghdadi proclaimed the "caliphate" at the mosque in 2014
The landmark, also known as Mosul's Great Mosque, is where IS leader Abu Bakr al-Baghdadi proclaimed a "caliphate" in Syria and Iraq - and named himself "caliph" - in mid-2014 shortly after the city was captured by the militants. It was the only time he has appeared in public.
Iraq's prime minister said the demolition was IS effectively admitting defeat.
"It's an official declaration of defeat," Haider al-Abadi said in a statement issued hours after news broke of the mosque's destruction.
Amaq, the IS news agency, blamed the destruction on a US airstrike. But a spokesman for the US-lead coalition denied striking the mosque. "We did not strike in that area," coalition spokesman Colonel John Dorrian told Reuters.
"The responsibility of this devastation is laid firmly at the doorstep of ISIS," said a statement from the commander of the coalition's ground component, US Army Major General Joseph Martin, using another acronym for IS.
A video shared on social media by a Middle East correspondent for the Wall Street Journal showed the minaret collapsing vertically in a vast billow of sand and dust, as a woman lamented in the background, saying "the minaret, the minaret, the minaret."

Iraqi troops backed by US airpower launched a push earlier this week to drive out IS fighters surrounded in Mosul's Old City, after retaking several neighborhoods in western Mosul over the past few weeks.
The last militants are holed up in the Old City along with an estimated 100,000 civilians, according to the United Nations.
More than 850,000 people have been displaced since the offensive to retake Iraq's second-largest city began eight months ago.
aw/cmk (Reuters, AFP, AP)