26-year-old Rani couldn't imagine 5 years ago that he would find success in Germany. In his home country, Iraq, he was constantly exposed to violence due to the war there. In addition, he and his family faced persecution because of their religious beliefs. "Things had reached a peak," he said, forcing him and his family to leave Mosul and go to Germany in search of safety and religious freedom.
Rani arrived in Germany in September 2011, following a "long and arduous journey in which he and his family were exposed to many dangers," he told InfoMigrants. It took only three months for the Iraqi family's request for asylum to be recognized, but this was not enough for them to feel secure.
Rani wanted to find a apartment so he could leave the refugee shelter, but this was not easy. Like other refugees, Rani receives monthly state aid, but landlords do not look favorably on this, making it difficult to find an apartment to rent.
Moving into self-employment
After a long search, Rani managed to find an apartment to live with his family. He also began to learn German. Rani did not want to continue receiving aid from the state and wanted to get his own source of income. For about four years he tried to work in various fields, such as construction or in restaurants. But he was not satisfied with these areas of work. "Working these types of jobs did not guarantee me enough income. We are a family of four," he said.
Rani did not have sufficient educational qualifications to work in areas that could increase his income. "In recent years, the neighborhood I live in has witnessed the arrival of many Arab refugees," he said. This led him to think about opening up his own business.
Rami's decision to move into self-employment was welcomed by the German labor office. An employee there enrolled him in a training course to help him understand the basics of self-employment in Germany. He learned how to "calculate profits and losses, better understand self-employment law and recognize my rights and duties of being self-employed in Germany."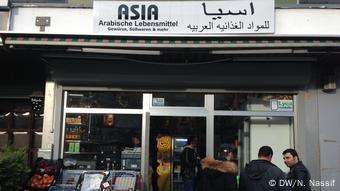 Rani's Arab grocery shop
After he successfully completed the training course, he had to go to a German government department that would carry out an economic study on an entrepreneurial project he submitted. Once the study was completed, he would receive government funding toward his project.
Rani was shocked when he found out his project was rejected because it was deemed "impossible to succeed." But Rani did not despair and began looking for an alternative solution: "I got a small loan from a friend and looked for a small space with low rent. I managed to achieve my dream."
Finding success
The project started small and his financial resources were limited but Rani began to buy food products that he would then resell. He was able to develop the project further thanks to the profit he was making.
The grocery store was attracting customers of all different nationalities: "Along with Iraqi, Syrian and Egyptian customers, we also had Germans and Turks," he said. When asked about his secret to success he remarks: "At the beginning it took a lot of patience but with the help from my wife and brother I was able to persevere. Never forget that the way one treats the customer is very important."
Rani hopes that in the future he could open up another shop to sell and repair mobile phones. He has extensive experience in the field from his home country. He advises refugees "to learn German, as that is the key to success here and helps a lot when searching for a job."
"Those who study, learn and work here live a better life than back home and enjoy many rights," he concludes.
© Copyright -- InfoMigrants All Rights Reserved
InfoMigrants is not responsible for the content of external websites
Source: InfoMigrants2017