Authorities released information on a 32-year-old Moroccan-Belgian named Oussama Atar who allegedly helped plot the March attacks in Brussels and the Paris attacks last November, officials said on Tuesday.
Atar is believed to be located in Syria and a member of the militant "Islamic State" (IS) group. He was already a suspect in the Brussels attacks but has now been linked to the Paris assaults as well.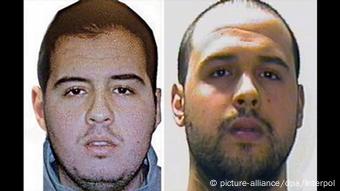 Investigators say Atar is a cousin of Brussels bombers Kahlid and Ibrahim Bakraoui
"He's the only coordinator from Syria to have been identified during the investigations," one source told news agency AFP, confirming information first reported in the French "Le Monde" newspaper.
Police suspected that the November 2015 attacks on the French capital were coordinated from Syria but had not previously named anyone.
Suicide bomb blasts at Brussels airport and metro stations on March 22 left 32 people dead. Atar is a cousin of two of the Brussels attackers, the El Bakraoui brothers Khalid and Ibrahim.
A total of 130 people were killed on November 13, 2015, when several groups of gunmen and suicide bombers attacked various locations throughout Paris, including the Bataclan theater.
Ties to Paris
There is evidence to suggest that Atar is the real identity of "Abu Ahmed," a pseudonym of the alleged attack coordinator, a judicial official speaking on condition of anonymity told the Associated Press.
French investigators linked Atar to the Paris attacks following the arrests of two suspected extremists in Austria last December. While in custody, one of the men said he intended to take part in the Paris attacks and had been sent by "Abu Ahmed." He later identified Atar from police photos, a source close to the probe told AFP.
Tuesday's announcement is a breakthrough in a multi-country probe into the terror attacks in France in Belgium.
France will mark the one-year anniversary of the Paris attacks this weekend, with the Bataclan concert hall reopening on Saturday with British rocker Sting.
rs/rc (AP, AFP)