A study by Human Rights Watch (HRW) has found that Indian authorities continue to routinely subject rape survivors to "two-finger test," which involves a doctor inserting fingers inside the victim's vagina to ascertain her sexual activity.
India's top court said in 2013 that the test "violates the right of rape survivors to privacy, physical and mental integrity and dignity." Subsequently, government guidelines made it clear that the test should be carried out only when necessary and with informed consent.
But HRW study found that medical professionals often do not pay heed to the guidelines.
"Two-finger tests continue to be used to come up with conclusions such as 'hymen is broken' or 'she is habituated to sex'," Meenakshi Ganguly, the South Asia director at HRW told DW.
"Now, if the survivor is a married woman or a mother such findings are totally unnecessary."
India has among the highest number of rapes in the world. Many still go unreported, mainly because victims fear stigma or retribution.
But growing awareness around sexual violence and legal reforms, more and more victims are reporting rape.
In 2015, nearly 35,000 rape cases were reported, and 7,000 convictions were made, both rising by about 40 percent in three years.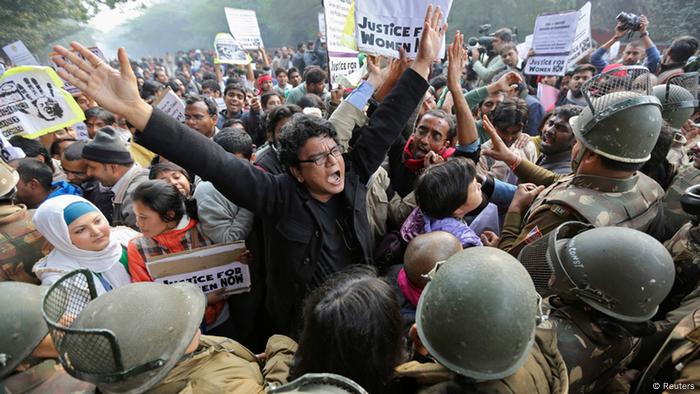 The fatal gang rape of a student on a bus in Delhi in 2012 sparked national outrage and demands for stricter laws.
Implementing reforms remains a far cry
The US-based advocacy group's research found huge gaps in the implementation of reforms adopted since the fatal gang rape of a student in a moving bus in Delhi in December 2012 that sparked national outrage and demands for stronger laws and policies.
The study found that while there was a higher willingness to report sexual offenses, victims still faced major barriers to obtaining justice and critical support services.
They are often humiliated at police stations and hospitals. Police are reluctant to register their complaints, despite a law saying police officers who fail to register sexual assault cases face up to two years in prison.
"While the intention had been right, the implementation is still lacking," said Ganguly.
"There are still a number of areas where the criminal justice system is not yet responding to victims' needs. The systems are not working as the government would have hoped."
Reporting rape a nightmare
HRW carried out field research in New Delhi and Mumbai as well as across four Indian states — Haryana, Uttar Pradesh, Madhya Pradesh and Rajasthan — where most number of rapes are reported.
The findings, based on more than 65 interviews, revealed few rape survivors benefited from a central fund created in 2015 that mandates that victims be paid a minimum of 300,000 rupees (€4,000) as compensation.
The study found that newly introduced sexual offenses such as sexual harassment, voyeurism, and stalking are still not taken seriously by police, and the perpetrators are easily given bail.
Witness protection systems are yet to kick in, leaving rape survivors and witnesses, especially those from poor and marginalized communities, vulnerable to coercion.
Reporting rape should not contribute to the victim's nightmare," Ganguly said.
"The Indian government should ensure medical, counseling, and legal support to victims and their families, and at the same time do more to sensitize police officers, judicial officials, and medical professionals on the proper handling of sexual violence cases."