The Indian portion of Kashmir came once again in the grip of violence as thousands of people in the state capital Srinagar and other parts of the valley clashed with the security forces, defying almost a month-long curfew.
Police fired bullets, tear gas and shotgun pellets to disperse the protesters opposed to Indian rule.
"Forces fired to disperse large crowds at two places in Budgam district in which two persons died," an Indian police official told the AFP news agency on condition of anonymity.
"Over 100 protesters and some policemen were injured in the day-long clashes," the officer said on Friday.
The latest unrest, the worst since 2010, has left 54 people dead and more than 4,000 injured.
Since 1989, Muslim insurgents have been fighting Indian forces in the Indian-administered part of Kashmir - a region of 12 million people, about 70 percent of whom are Muslim. Some rights groups claim over 70,000 people, mostly civilians, have died during the decades-long insurgency.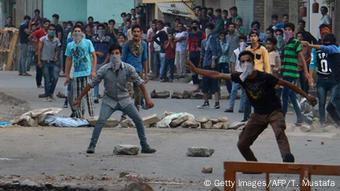 The unrest has left 54 people dead and more than 4,000 injured
India blames Pakistan
While Indian civil society has called on Prime Minister Narendra Modi to engage in dialogue with Kashmiri separatists, the government said it would use more force against what it says is a Pakistan-backed militancy.
Indian Interior Minister Rajnath Singh recently visited Islamabad to attend a South Asian Regional Cooperation meeting, however he did not engage in direct talks with Pakistani officials over the Kashmir issue.
New Delhi believes the crackdown is necessary as the secessionist movement in Kashmir is not indigenous and receives backing from Islamabad. Pakistani officials say their support to Kashmiri Muslim separatists is only diplomatic.
India accuses Pakistan of training and arming the rebels in the portion it controls and sending them to the Indian side, a claim its neighbor denies. The nuclear-armed neighbors have fought two of their three wars since independence in 1947 over Kashmir, which they both claim in full but rule in part.
"Pakistan uses terror as a strategic policy despite facing several terror attacks itself and losing thousands of its people. The jihadist infrastructure continues to operate from Pakistani soil. History tells us that the militants who operate in Kashmir are, mostly, either local Kashmiri Muslims or Pakistanis," Varad Sharma, an Indian expert on Kashmir, told DW.
Need for a political solution
Despite the Indian expert's claims of Pakistani interference, anti-India sentiment is rife in some parts of Kashmir. Many resent the deployment of hundreds of thousands of Indian troops, and openly voice support for rebels who have been fighting since the 1990s to demand independence or a union with neighboring Pakistan.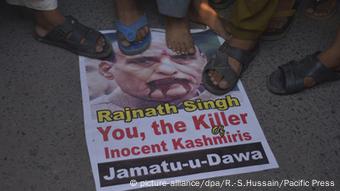 New Delhi believes the secessionist movement receives backing from Islamabad
Some Indian civil society members believe New Delhi cannot exonerate itself from the responsibility by accusing Islamabad of creating unrest in the valley. A number of rights organizations demand that the Modi government reduce the number of troops in Kashmir and let the people decide their fate.
"The Indian state survives in Kashmir only by using the might of its army, and the force of its guns. The people are no longer scared of the bullet," Sumati Panikkar, a left-wing activist in New Delhi, told DW.
Toqeer Gilani, the president of Jammu and Kashmir Liberation Front in Pakistan-administered Kashmir, believes the best way to engage with Kashmiris is that both India and Pakistan must step aside.
"We demand a solution of the Kashmir conflict based on freely expressed wishes of the people. It is high time India and Pakistan announce the timetable for withdrawal of their forces from the portions they control and hold an internationally-supervised referendum," Gilani said.