A few weeks ago, Indian tycoon Mukesh Ambani deepened his outlay in Nairobi's real estate sector with the acquisition of 10 prime plots valued at 2.9 billion shilling ($35 million) which are set be used for commercial and residential development."It feeds the growing demand as more multinationals set foot in the continent," Prateek Berry, a realtor in Delhi told DW. Two years before, Ambani, who is also India's richest man, had also invested heavily in Tanzania's air transport and hospitality industries.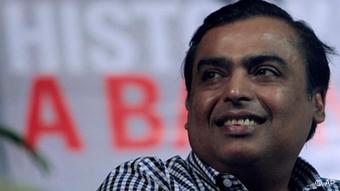 Business tycoon Mukesh Ambani has heavily invested in Africa
For many analysts, the move doesn't come as a surprise. According to the latest joint report by the Confederation of Indian Industry (CII) and the World Trade organization (WTO), India's current investments in Africa amount to more than $50 billion.
Africa's vast resources have long stirred up commercial interest. Besides oil and gas, the world's second largest continent has huge deposits of gold, silver, copper, iron, uranium and diamonds. Africa is becoming the new El Dorado with India's private conglomerates jostling for space in the hope of reaping big profits.
According to the CII-WTO report, overall trade between India and Africa grew at 32.4 percent between 2005 and 2011. Even more importantly, Indian private investment in Africa has surged, with major investments having taken place in the telecommunications, IT, energy and automobiles sectors.
'We want to lead the race'
The Tata Group, for instance, an India-based multinational conglomerate, unveiled earlier this year a $1.7 billion greenfield investment aimed at boosting automobile and hospitality businesses in the continent. Furthermore, Vedanta Resources, India's largest mining and non-ferrous metals company recently reported that it had invested $4 billion US dollars over the past nine years in Africa's mining sector.
In 2010, India's largest cellular service provider, Bharti Airtel, made a foray into the African telecommunications market by acquiring Zain Telecom's operations in 15 countries. The company recently unveiled plans to take over Warid Telecom Uganda, thus strengthening its footprint in the continent.
"We aim to lead Indian companies in raising bilateral trade to $100 billion by 2015. China is itself lobbying for its companies in that continent, so from Indian side, we want to lead the race," said R V Kanoria, a former president of the Federation of Indian Chambers of Commerce and Industry.
An India-China rivalry?
Analysts see Africa increasingly as a battleground between India and China for trade supremacy. In an effort to tackle the aggressive Chinese expansion in Africa, India pledged in March $5.7 billion in credits and grants for developmental projects and over a 100 capacity building institutions in Africa in March.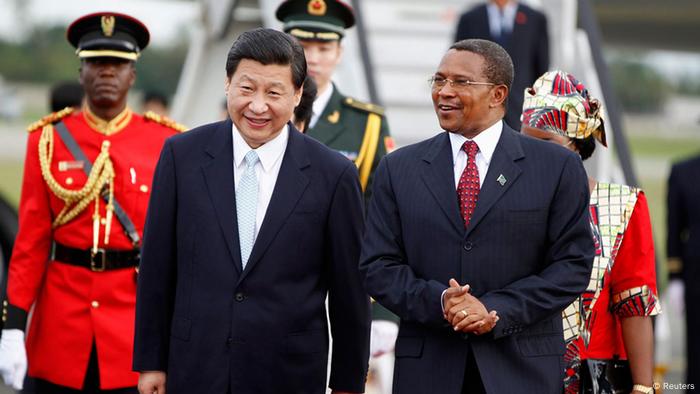 Analysts see Africa increasingly as a battleground between India and China for trade supremacy
"There are huge opportunities in Africa. India is coming to the continent with more to offer at a time of heightening tensions between the two countries in recent months. But it is the African countries that stand to gain," Kiran Lal, researcher at New Delhi-based the African Studies Association of India told DW.
However, China and India have been at the centre of growing criticism for going on reckless shopping sprees in Africa in order to feed their growing economies back home. Both countries are accused of not shirking away from doing business with countries that have been shunned internationally such as Sudan and Zimbabwe.
A huge gap
But can India's economic expansion affect Chinese interests in the region? India is currently the fourth-largest trading partner of Africa, following the European Union, China and the United States. Vaidhyanatha Gundlupet-Venkataramu, Professor of International Relations at the University of Texas in San Antonio, believes India is more popular than China in Africa.
However, when talking solely about investments in Africa, the Chinese are a step ahead of the Indians, says the expert. According to the WTO, African imports from India grew at an annualised rate of 23.1 percent between 2005 and 2011, comparable to 25.6 percent from China.
Despite the fact that India-Africa overall trade grew at 32.4 percent during the same period, which is higher than China-Africa trade growth at 27 percent, the total value of India-Africa trade (at $63 billion in 2011) is only 38 percent of the value of China-Africa trade (at $166 billion).
Moreover, there are differences in terms of how the two countries go about raising their profiles in Africa. Unlike China, India does not tire of proclaiming its historical ties to Africa. India's national hero and father of independence, Mahatma Gandhi, even lived for a few years in South Africa at the end of the 19th century.
Like many African countries - especially in Eastern Africa - India suffered under British colonialism. India makes up one of the largest contingents of the UN peace missions in Africa and is also hoping for Africa's support in its efforts to gain a permanent seat on the Security Council.
As the world focuses on Africa's fast growing economies, the continent is poised for massive development in all sectors as numerous investors lobby for a share in the continent's prospects. But China and India will not be alone in this race. They will joined by other countries such as Japan, Brazil and Turkey.