Indian Prime Minister Narendra Modi's government's liking for cows is no secret. Modi's Bharatiya Janata Party (BJP) and its Hindu nationalist allies have turned bovine protection into one of the most important topics of public discourse in the country over the past couple of years.
Cow vigilantes and right-wing Hindutva groups have also grabbed attention now and then with their vicious attacks on people suspected of mistreating cattle.
In this context, it is not surprising that Finance Minister Arun Jaitley's move in the annual budget, presented earlier this month, to set aside millions to come up with ID numbers for the nation's cows proved controversial.
The government plans to spend about 500 million rupees (around €6.26 million, $7.81 million) to assign 40 million cattle a unique 12-digit identity number, in the same way it has come up with a unique ID for every individual as part of the nation's ambitious identity card scheme, called Aadhaar.
Depending on the scheme's success, additional funds would also be allocated to monitor the nearly 300 million bovine population across the South Asian nation.
A laborious exercise
The reasons given to justify the project are multifold: to keep track of the nation's cattle; protect them from smuggling gangs; help in taking care of abandoned animals and management of cow shelters, among others. "We want to improve breeding and milk production, and double the industry's income by 2022," said an agricultural ministry official working on the National Mission on Bovine Productivity scheme.
The scheme's proponents also argue that unique IDs for cows would aid in tracking the breeds better and help in cross-breeding, by readily making available information on the cattle's age, breed, sex, lactation, height, body, color, horn type, and tail switch and special marks.
"The cow is a holy animal and respected by Hindus. It is high time we had a protection net for them and see they are not slaughtered and smuggled," Surendra Jain, joint general secretary of the Vishwa Hindu Parishad, a hardline religious group, told DW. Jain's organization, based on the ideology of Hindutva or Hindu cultural nationalism, has been in the news for unleashing mob attacks by cow vigilantes in many states.
"Cow produces more milk than necessary for its own kids and is god's arrangement for nourishment of humans. Therefore, the cow is selfless and we need to protect it," Radhey Shyam, the caretaker of the Hare Krishna Gaushala, a cow shelter in Delhi, told DW.
Even before the fresh outlay of funds for the scheme, several states ruled by the BJP had already begun tagging cows. In the eastern state of Jharkhand, for instance, 12,000 cows have been tagged, of the province's total 4.2 million cattle. It is one of the few states in the country where the Prevention of Cow Slaughter Act enacted in 2005 is in place. Those found guilty of violating the law may face a hefty financial penalty or imprisonment of up to five years, or even both.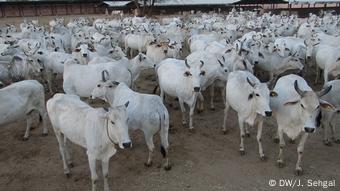 The Modi government has turned cows into a major topic of public discourse in India
Likewise, plans are afoot to tag 1.4 million cattle in the northern state of Uttar Pradesh and 750,000 cattle in central Madhya Pradesh state. Officials in the Central Institute for Research on Cattle, a government agency, pointed out that technicians have already started to fan out across the country to affix tags to the ear of each of the staggering number of livestock.
Vigilante groups on the prowl
This enthusiasm is not shared by the government's critics, who suspect the initiative could be misused to target minority and underprivileged communities under the pretext of cow protection. "This is finally going to be a witch-hunt and there is bound to be more targeted violence against minorities in the country in the years to come," said Rasheed Khan, a dairy farmer in Delhi.
"There has been a string of cow-related violence against Muslims in the country. Bands of right-wing Hindus who seize the cows are operating essentially as private militias and that should be stopped," D Raja of the Communist Party of India told DW.
Some also criticize Modi and the BJP, saying the scheme is an example of the administration's misplaced priorities at a time when the nation faces a raft of pressing socioeconomic concerns. "This is nothing but an election gimmick. As it is an emotional issue, they are giving priority to a scheme which is not the need of the hour," Dr M C Mishra, former director of the All India Institute of Medical Sciences, told DW.
Read more:
Narendra Modi - India's prime minister and populist
'Not in my name' – Indians protest vigilante attacks on Muslims
The Indian government's focus on cows, however, is not limited to their protection and ID numbers. Last year, it also set up a 19-member panel, including three members linked to the Hindutva organization Rashtriya Swayamsevak Sangh, the BJP's ideological mentor, to carry out what it says will be scientifically validated research on cow-derivatives, including its urine, and their benefits.
In addition, the country's premier Indian Institutes of Technology have received 50 proposals from different academic and research institutes to study the benefits of cow urine and milk under a flagship program called "Scientific Validation and Research on Panchgavya" (concoction of cow dung, cow urine, milk, curd and ghee).
In many countries across Europe, cattle tagging helps in tracing of animals for veterinary purposes, which is of crucial importance for the control of infectious diseases such as the mad cow disease.
But this is the first time such an undertaking to barcode cows has been taken for entirely different reasons.