A spate of recent attacks on low-caste Dalits and Muslims by self-styled cow protection groups have drawn attention to the issue of growing vigilante attacks in India.
The assaults prompted thousands of Dalits to stage massive protests at the end of July in Prime Minister Narendra Modi's home state of Gujarat. And last weekend, after months of silence on the issue, PM Modi finally rebuked the attackers, denouncing them as "anti-social" elements.
Mainly made up of upper caste Hindus, the self-proclaimed cow protectors have targeted people suspected of consuming or storing beef, which is banned in a number of Indian states. Cows are considered sacred by many religious Hindus, though it is estimated that a quarter of India's population consumes beef.
Victims of the attacks have been overwhelmingly drawn from the Dalit castes, the lowest in Indian society, and the country's Muslim community.
Gruesome attacks
The wave of attacks began last October when Mohammad Akhlaq, 50, was lynched by a right-wing Hindu mob in the town of Dadri over rumors of possessing beef. As proof, the attackers pointed to meat found in his fridge.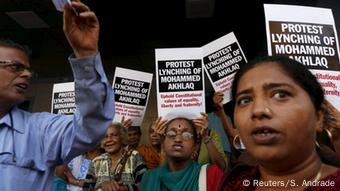 A protest in Mumbai last October aainst the lynching of Mohammad Akhlaq, who was accused of slaughtering a cow
The gruesome violence has since spread, along with video footage of the attacks. One video filmed in July showed a gang in the city of Mandsaur kicking two Muslim women over allegations of beef possession. They were surrounded by a shouting mob and policemen feebly attempting to control the crowd.
In another video, two beef transporters in the city of Faridabad are seen being forced to eat cow dung.
And last month, in the state of Gujarat, members a Dalit family involved in leather trading were stripped half-naked, tied to a car, dragged for about a kilometer and then beaten with iron rods and sticks.
The attack sparked the July demonstrations by Dalits in Gujarat, in which they blocked roads and torched public transport. They tied their demands for an end to the extraordinary violence and the subjugation they continue to face everyday at the bottom of India's rigid caste hierarchy - a complex, religion-sanctioned, segregation system that divides people into different social groups based on their birth or, in some cases, their occupation.
This includes the performance of demeaning manual jobs that they have been tasked with for centuries. "We will give up removing cow carcasses and cleaning gutters. I will bring them (the Dalits) all together. We will not be oppressed anymore," Jignesh Mevani, a Dalit protest leader and activist, told DW.
'This game should stop'
The attacks have put Prime Minister Narendra Modi in a difficult position. His right-wing Bharatiya Janata Party, which is in power in states across the north, draws much of its support from Hindu nationalism.
His government has thus come under frequent criticism for emboldening extreme Hindu nationalists. In addition to the spate of cow vigilante violence, for instance, churches were vandalized and Christians attacked across the country last year.
In the face of growing condemnation, Modi finally lashed out at the "fake cow vigilantes" on Saturday, August 6. "I would like to tell these people that if you have any problem, if you have to attack, attack me," he said. "Stop attacking my Dalit brethren. If you have to shoot, shoot me, but not my Dalit brothers.
"This game should stop," he added.
But his critics saw his comments as too little too late. "All this is just histrionics. Why has be not chosen to speak in parliament?" asked Mayawati, the head of the regional Bahujan Samaj Party. "This hooliganism could have been nipped in the bud a long time back. Why did he choose to be silent?"