Indian Prime Minister Narendra Modi confirmed on September 25 that his country would ratify the Paris agreement on climate change on October 2, coinciding with the anniversary of the birth of Mohandas Gandhi, the South Asian nation's independence leader.
"Now the time has come to ratify the COP21 protocol. India will do it on Gandhi Jayanti, on October 2," Modi said at his Bharatiya Janata Party's national meeting in the southern state of Kerala.
The Indian premier said he chose Gandhi's anniversary as the late leader believed in a minimum carbon footprint.
COP21 refers to the Conference of Parties protocol that requires both rich and poor nations to reduce carbon levels and aims to eliminate greenhouse gas emissions.
India accounts for around 4.5 percent of global greenhouse gas emissions, behind only the United States, the EU and China, which have already ratified the agreement.
UN Secretary General Ban Ki-moon said earlier this month that 60 countries, responsible for around 48 percent of the global carbon emissions, had joined the pact. The 22nd UN Climate Conference will take place on November 7 in Marrakesh.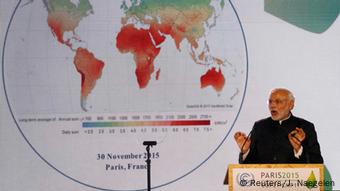 'We still need conventional energy," says PM Modi
Reservations
New Delhi had previously expressed reservations on the deal, arguing that it would have a negative impact on India's development. But on September 25, PM Modi acknowledged that global warming posed a threat to coastal countries and cities.
Already one of the most disaster-prone nations in the world, India is also likely to be hit hard by the effects of global warming. The South Asian country has very dense coastal populations vulnerable to rising sea levels.
And the freak weather patterns which are already taking place - such as extreme heat, drought, and the record-breaking floods in Chennai - will not only affect agricultural and food security, but also cause water shortages and disease outbreaks.
The Indian government has reacted to the growing threat by rolling out an ambitious clean energy plan. New Delhi has pledged to invest $100 billion in clean energy investments over the next five years, as well as to source 40 percent of its electricity from renewable and other low-carbon sources by 2030.
The South Asian giant wants to reach 175 gigawatts (GW) of renewable energy capacity by 2022 - up from currently 38 GW - of which 100 GW will be from solar energy.
'We still need conventional energy'
But will this be enough? Analysts point out that while New Delhi is well aware of the dangers posed by global warming, it also wants to make sure that any deal in Paris doesn't restrict the country's ability to expand its economy, with PM Modi saying that rich countries should not force the developing world to abandon fossil fuels completely.
"We still need conventional energy. We need to make it clean, not impose an end to its use," said Modi at the start of the Paris talks, calling on developed nations to meet their commitment to muster $100 billion a year from 2020 to help poor countries cope with climate change.
Moreover, India sees itself as one of the most vocal proponents of "climate justice" - the notion that historical responsibilities as well as present-day capabilities matter greatly in shaping the climate governance regime.
"From the perspective of New Delhi, it bears little responsibility for the exponential increase in greenhouse gas emissions since the industrial revolution, and also has very little capacity to address the problem when much of the country still lives in abject poverty and hundreds of millions of Indians still lack access to electricity," David Livingston, an associate at the Energy and Climate Program at the Carnegie Endowment for International Peace, told DW.
It is precisely this balancing act between boosting economic growth and reaching environmental goals that poses the greatest political challenge to leaders of developing nations such as India.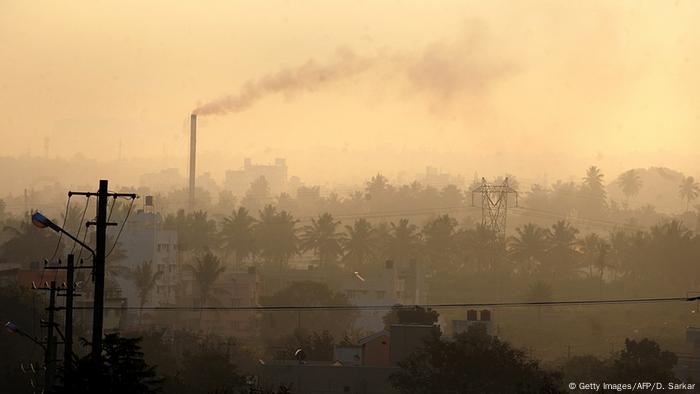 India is already the world's fourth-largest emitter of carbon dioxide after China, the US and the EU
Pivotal role in COP21
India's role in the COP21 talks is seen as pivotal - not least by virtue of its size, stature and emissions record. An agreement without India's participation would not have been only "practically impossible" under the legal structures of the United Nations Framework Convention on Climate Change (UNFCCC) but would have lacked credibility, the climate expert added. "The country on pace to becoming the world's largest emitter in a few decades time simply cannot be left behind," Livingston said.
India is home to one-sixth of the world's population, and its third-largest economy in purchasing power parity (PPP) terms, but accounts for only six percent of global energy use, with one in five Indians - 240 million people - still lacking access to electricity, according to the IEA.
But the government's plans to lift millions out of poverty will likely change this, as efforts to modernize and industrialize India will trigger dramatic increase in energy demand. In fact, the IEA estimates that the country's energy demand will account for roughly a quarter of the global increase in consumption by 2040.
The problem is that coal - the key source of power in the country, accounting for around 60 percent of total electricity generation - is also a key source of carbon emissions. And due to the relatively low cost and large reserves of domestic thermal coal, it remains the key fuel source in India's long-term energy strategy, as Rajiv Biswas, Asia-Pacific Chief Economist at the analytics firm IHS, told DW.
The IEA estimates the expansion of coal supply will make India - which has some of the most polluted cities in the world - not only the second-largest coal producer in the world, but also the largest coal importer, overtaking Japan, the EU and China in the coming years.
"India is a coal-focused country, and it plans to double its consumption in the next 15 years. This is the crux of the problem, given that it's hard to imagine India substantially bringing down its emissions if it plans to scale up one of the most emissions-intensive energy resources out there," Michael Kugelman, South Asia expert at the Washington-based Woodrow Wilson Center told DW.
But while this may seem like a dire prospect, Livingston explains that from India's perspective, New Delhi's long-term climate strategy makes sense as it not only puts the country on a growth path, but also keeps per-capita emissions far below those of other industrialized countries such as the US. Today, India's per-capita emissions are only one-third of the global average.
"The paradox here is that while India's implied emissions growth rate to 2030 is the largest in absolute terms of all large economies, the country still ends up with the smallest per-capita emissions of all these economies in 2030," Livingston told DW.
A change in economics?
But experts say that over time, the relative economics of conventional energy and new, clean technologies will change dramatically. A study from MIT has shown that we can expect the cost of wind energy to fall by around 25 percent, and solar by around 50 percent, based on anticipated investment, past trends and technology cost floors.
"The implications of this are tremendous - it means that by 2030, both technologies would represent a negative cost of carbon abatement relative to coal in many areas. The logic of climate action would finally be articulated in the crude but compelling logic of economics, and this is a development that India, nor any other nation, could afford to ignore," said Carnegie expert Livingston.