Imam Sayed Amr, an elderly man with a large white hat with a red top, was issuing religious edicts inside a crowded metro station in downtown Cairo. He was among several pious leaders from Al-Azhar - one of Sunni Islam's most renowned institutions - soliciting questions and concerns from Egyptians in transit.
"We have come here to answer people's religious related questions," Imam Amr told DW. "But we are also here to redirect young people who are on the wrong path."
Read more: Qatar crisis: What you need to know
Last Thursday, Al-Azhar opened several small booths in Cairo metro stations to offer religious guidance to those who seek it. But their main motivation, they say, is to condemn terrorism and to correct misinterpretations in Islam.
The move comes as the Egyptian military continues to wage a bloody counter-terrorism campaign in the Sinai against the so-called "Islamic State" (IS) -affiliated militants. Human Rights Watch has criticized the military and insurgents for committing grave abuses.
However, the mass destruction in the north hasn't stopped terrorist attacks from striking elsewhere in the country. More than 100 Coptic Christians have been killed from four church bombings, and more than 28 members of state security have died in the Sinai since July. The ongoing crisis is now compelling Al-Azhar to reach out to Egyptians as they transit through Cairo.
'Preaching peace'
Imam Amr said that few young men came to visit him in Al-Shohoda metro station over the last week to solicit his views about Islamic militarism in the region. And while they may have not asked him explicitly for his opinion about designated terrorist groups, Amr suspects that some of the youth have been exposed to online terrorist propaganda.
"Some of the youth are listening to unofficial fatwas (Islamic edicts) that are being given by people who are not qualified to give them," said Amr. "I always try to answer their questions with religious verses. I tell the [youth] that Islam is about modesty and peace."
Read more: Egyptian rappers fight against censorship
Despite the concerns, Amr is quick to note that most of the questions he's answered are related to people's personal lives, not politics. Some, for instance, have sought advice about whether to stay married or to get divorced, while others have asked how inherited wealth should be distributed amongst the family.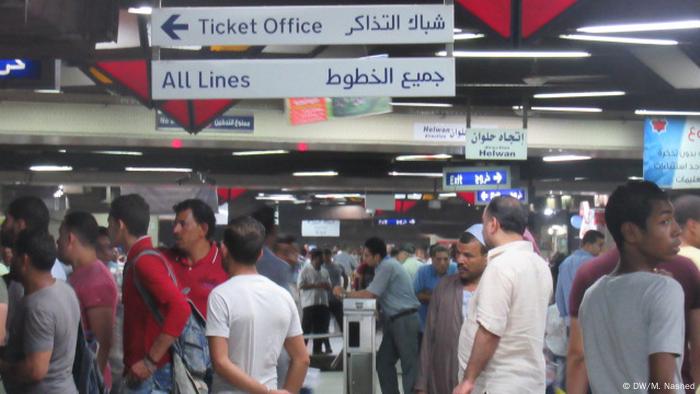 Al-Azhar is making itself easily accessible to Cairenes in metro stations
Several Egyptians nonetheless told DW that the presence of Al-Azhar in public spaces is a good strategy to redirect youth who are on a dangerous path.
One woman in a black abaya, who was waiting outside the booth to speak with one of the sheikhs in Al-Shohoda station, said that she was more receptive to listening to sheikhs from Al-Azhar since she trusts the institution.
"I think it's a great idea that the Al-Azhar is now available in metro stations," the woman said, declining to disclose her name. "I prefer to come here than go the Al-Azhar Mashyakha [their main headquarters] since it's so far away. I also don't like to go to the mosque and speak to a sheikh whose qualifications I'm unsure about."
"I used to call the number for Al-Azhar in the morning to ask them [religious] related questions. The person on the line would give me a number to call the following day so I could receive the fatwa," added Amira Abo Elazm, who was also waiting to speak to a sheikh. "But now I know I can just come here [to Al-Shohoda metro station]."
Suspicious motives
Not everyone is ready to trust Al-Azhar despite their reputation. Ashraf El-Gindy, a middle-aged man with dark hair and light stubble, said that there is no place more secure or spiritual than the mosques. He was also uncomfortable with how the sheikhs were requesting people's personal information before providing counseling in the booth.
Several people told DW that they had to write down their name, phone number and ID number once they entered.
"[I fear that] if anybody asks political questions or says anything that could be understood as extremist, then their info will be given to the government and they will be watched or arrested," said El-Gindy.
His fears may be well founded. Since President Abdel-Fattah el-Sissi came to power, the government has arrested thousands of political prisoners who they claim are terrorists. Most are members from the outlawed Muslim Brotherhood or secular critics of the regime.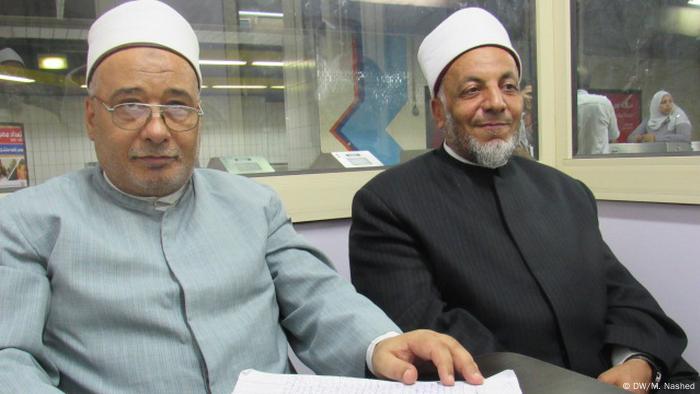 Imam Sayed Amar (right) says he tries to make clear to young men that Islam is about peace
Yet Ahmad El Sayeed Abo Elazm, a high religious advisor for Al-Azhar in Cairo, insisted that there was nothing suspicious about taking down people's personal information. Sitting behind a desk inside the booth, he said that phone numbers are taken down so that sheikhs can call people back after revisiting a question. But when asked why Al-Azhar was requesting ID numbers, Abo Elazm answered that taking such info was standard practice.
"It's normal," he said, though he was first reluctant to give his name to DW. "We want to know who we're talking to."
Read more: Public wakers shout their way to a resurgence in Cairo
Analysts say that terrorist attacks have increased in Egypt largely due to the government's brutal crackdown on all opposition. But el-Sissi has blamed outdated interpretations of Islam for the proliferation of extremism in the country. In 2015, he called for a 'religious revolution' to counter terrorism.
Al-Azhar appears to be answering el-Sissi's call. Outside the booth, El-Gindy was browsing stacks of religious books that the sheikhs were offering to the public. One was called, "Terrorism and its Danger to World Peace" while another read "Correcting Perspectives."
None of the titles mentioned the connection between state repression and terrorism. And El-Gindy, for one, suspects that those who confide their political grievances to religious leaders in public could suffer reprisal.
"Right now, nobody can speak about politics [in Egypt]," El-Gindy said, before picking up a book and leaving the station.
Badawy contributed reporting in Cairo.